Anderson Varejao 'unlikely' to play Friday night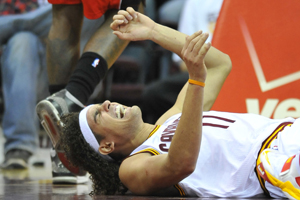 Varejao might miss Friday's game.
(Getty Images)
Cavaliers coach Byron Scott said at Friday morning's shootaround that Anderson Varejao is "unlikely" to play on Friday night against the Indiana Pacers. Varejao was injured against the Raptors on Tuesday when he landed awkwardly on his right knee. He also missed the Cavaliers game Wednesday against the Celtics.
Varejao has a history of injuries, but most of them are spread across multiple parts of his body. His durability as he gets older does remain a concern. The Cavaliers desperately need Varejao back, as he's the Cavaliers second-best player behind Kyrie Irving, and the gap between him and the rest of the Cavaliers is the size of Brazil.
Tyler Zeller will once again get the start in Varejao's stead. The rookie acquitted himself nicely this week against the Celtics with a strong game, scoring 20 points, though he only had three rebounds.