Kobe Bryant holds lead over LeBron in third All-Star returns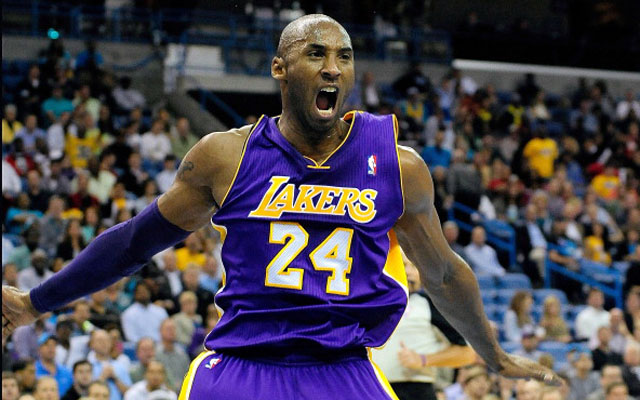 Kobe still leads over LeBron.
(Getty Images)
In the third round of NBA All-Star ballot returns, Kobe Bryant remains on top as the leading vote-getter, ahead of LeBron James. Kobe checks in with 1,177,456 votes, ahead of LeBron, who has 1,151,304. Kevin Durant remains third with 1,088,797, ahead of Carmelo Anthony, who is at 1,054,099.
Overall, nothing has really changed since the first returns released Dec. 13. The current East starters remain the same as the first returns, with Rajon Rondo, Dwyane Wade, LeBron, Carmelo and Kevin Garnett starting.
The West is unchaged as well, with Chris Paul, Kobe, Durant, Blake Griffin and Dwight Howard staying the first five.
All-Star voting underwent some changes this season with the elimination of the center position from the ballot, instead using just backcourt and frontcourt as the positions. (Meaning Durant is the same position as Howard.)
Also, fans were able to cast their votes through social media channels such as using the hashtag #NBABallot.
The two battles to continue to monitor are Garnett holding a slim edge over Chris Bosh (about 28,000 ahead) and Jeremy Lin and CP3, with Lin remaining about 45,000 behind.
Other than that, you can expect the starting fives to look pretty much the same as they are now.
Balloting concludes Jan. 14 with the starters being announced Jan. 17 on TNT.
Here are the full returns:
EASTERN CONFERENCE
Frontcourt: LeBron James (Mia) 1,151,304, Carmelo Anthony (NYK) 1,054,099, Kevin Garnett (Bos) 390,751, Chris Bosh (Mia) 362,973, Tyson Chandler (NYK) 315,752, Paul Pierce (Bos) 205,096, Joakim Noah (Chi) 158,743, Josh Smith (Atl) 131,508, Anderson Varejao (Cle) 116,166, Shane Battier (Mia) 107,190, Amar'e Stoudemire (NYK) 104,109, Andrew Bynum (Phi) 93,611, Luol Deng (Chi) 90,736, Brook Lopez (BKN) 76,695, Jeff Green (Bos) 62,367.
Backcourt: Dwyane Wade (Mia) 765,077, Rajon Rondo (Bos) 675,822, Deron Williams (BKN) 350,618, Kyrie Irving (Cle) 308,878, Ray Allen (Mia) 232,441, Monta Ellis (Mil) 84,609, Raymond Felton (NYK) 77,123, Jrue Holiday (Phi) 66,514, Jason Terry (Bos) 62,189, Brandon Jennings (Mil) 56,826.
WESTERN CONFERENCE
Frontcourt: Kevin Durant (OKC) 1,088,797, Dwight Howard (LAL) 716,671, Blake Griffin (LAC) 593,024, Tim Duncan (SA) 352,534, Pau Gasol (LAL) 239,440, Kevin Love (Min) 221,291, Omer Asik (Hou) 160,935, Rudy Gay (Mem) 140,864, Serge Ibaka (OKC) 134,172, Marc Gasol (Mem) 114,465, LaMarcus Aldridge (Por) 111,156, Zach Randolph (Mem) 111,046, Dirk Nowitzki (Dal) 106,623, Metta World Peace (LAL) 106,025, Chandler Parsons (Hou) 93,057.
Backcourt: Kobe Bryant (LAL) 1,177,456, Chris Paul (LAC) 651,893, Jeremy Lin (Hou) 605,624, James Harden (Hou) 337,585, Russell Westbrook (OKC) 268,558, Steve Nash (LAL) 202,274, Tony Parker (SA) 128,966, Ricky Rubio (Min) 112,352, Stephen Curry (GS) 97,761, Manu Ginobili (SA) 84,564.