Gary Payton, Jerry Reinsdorf among Hall of Fame nominees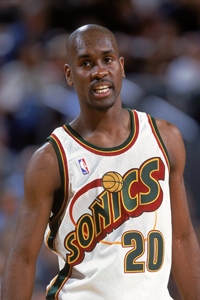 Make room from for "The Glove" in Springfield?
(Getty Images)
Gary Payton, Bulls owner Jerry Reinsdorf and former NBA executive Russ Granik are among the nominees for 2013 Hall of Fame induction.
Payton played 17 NBA seasons and was a nine-time All-Star and was named first-team All-Defense nine consecutive years. He spent time playing for the SuperSonics, Bucks, Celtics, Lakers and Heat. Payton holds SuperSonics/Thunder records in total points, assists and steals. He's also the only point guard to ever win Defensive Player of the Year.
Reinsdorf became chairman of the Bulls in 1985, of course overseeing one of the most successful runs in modern sports; the Bulls won six titles in the 1990s. He's known, though, for the controversial decision -- along with Jerry Krause -- to break up the Bulls in 1999 by not bringing back Michael Jordan and Phil Jackson.
Granik served as deputy commissioner of the NBA for 22 years, retiring in 2006 after 30 years with the league.
The entire list of nominees from the North American committee (which includes pro, college and high school ranks): John Bach, Dick Bavetta, Gene Bess, Maurice Cheeks, Jack Curran, Bobby Dandridge, Lefty Driesell, Bill Fitch, Cotton Fitzsimmons, Travis Grant, Tim Hardaway, Spencer Haywood, Robert Hughes, Kevin Johnson, Marques Johnson (first time on the ballot), Gene Keady, Bernard King, Guy Lewis (first time), Danny Miles, William (Speedy) Morris (first time), Dick Motta, Curly Neal, Payton, Rick Pitino, Mitch Richmond, Paul Silas, Eddie Sutton, Jerry Tarkanian, Rudy Tomjanovich, Paul Westphal and Gary Williams.
From the ABA committee: Zelmo Beatty, Ron Boone, Roger Brown, Mack Calvin, Louie Dampier, Bob (Slick) Leonard, George McGinnis.
From the international committee: Vlade Divac, Sarunas Marciulionis and Oscar Schmidt.
One name not on the ballot: Mark Jackson, who was left off after not receiving a single vote in three years, despite being third all-time in assists.