Nightly Grades 1.7.12: A healthy dose of Truth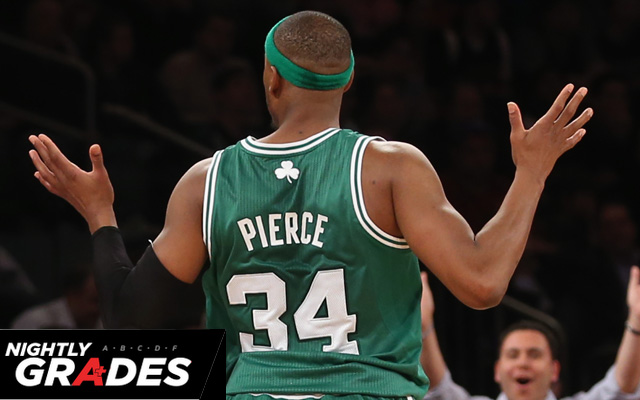 Paul Pierce was full of Truth on Monday.
(Getty Images)
Each night, Eye on Basketball brings you what you need to know about the games of the NBA. From great performances to terrible clock management, the report card evaluates and eviscerates the good, the bad, and the ugly from the night that was.



Celtics

' defense
In large part, the Knicks fed into what the Celtics wanted them to do. And by Knicks, I mean Carmelo Anthony. Melo went full-on ISOMelo over and over and over again. And it broke up their flow. But the Celtics also aggressively attacked New York's dribble, disrupting them and slugging the pace down into the mud. It was the kind of Celtics defense that we've been used to. Terrific work as a team, from Avery Bradley to Paul Pierce to Jared Sullinger. The kind of performance they needed.


Washington Wizards
Some kind of effort against the best in the West. The Wizards held the Thunder without a made field goal for close to 11 minutes and actually created quality looks for once. Martell Webster was huge from the corner, especially on a late four-point play. Meanwhile, Bradley Beal was the hero they needed. A great win for a team that has had such a rough season.
New Orleans Hornets
How about a win streak? How about a huge win over a division rival? How about Greivis Vasquez with another huge game? How about Eric Gordon, who didn't shoot well but really played well and looked like an All-Star in his movement and playmaking? How about Anthony Davis and his finishing in space? How about them Hornets?
Chicago's offense
The Bulls, who are offensively challenged, shot 71 percent from 3, 10-for-14 on Monday night against Cleveland. Six players in double figures. Their top three bench players missed a combined 7 of 25 attempts. Not made. Missed. An incredible offensive performance (or terrible defensive job by the Cavs).
Mavericks composure
Totally broke down in the fourth for yet another loss. Had the game under wraps and the fans out of it and just let Utah blaze past them. Poor defense and more disjointed offensive sets. The Mavericks just don't know what they're doing in key situations, a weird development for a Rick Carlisle team
Carmelo Anthony
Taking 25 shots and hitting six of them, you'd assume he just had a bad night. But, no, it was poor choices, poor movement, poor leadership. The Knicks have thrived season year on ball movement and balance. Melo wanted to one-up Boston in MSG and paid the price. Oh, and this happened: