Scott Skiles and Bucks agree to part ways immediately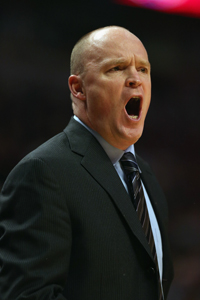 Skiles left the Bucks on Monday.
(Getty Images)
Ken Berger of CBSSports.com confirms a USA Today report that the Milwaukee Bucks and Scott Skiles have agreed to part ways immediately.
The person spoke to USA TODAY Sports on the condition of anonymity because the team had yet to announce the move. The decision was mutual between Skiles and the team.
via Milwaukee Bucks, Scott Skiles agree to part ways.
Yahoo Sports reported that Skiles decided to walk away because he "hated his team." The Bucks are 16-16 this season, having fallen off after starting as the second-best team in the East for a stretch in November. The team has actually been more competitive than many anticipated, with big wins over several Eastern Conference powers.
But apparently the situation was untenable for Skiles.
NBA.com reported earlier on Monday that Skiles had told the team he was fine with not getting an extension and walking away after the season, the last of his contract. You wonder if that report led Skiles to accelerate his timeline. Meanwhile, Yahoo reported that assistant Jim Boylan will take over as interim coach.
The Bucks have several unstable parts of their team, with Monta Ellis with an early termination option to become a free agent this summer, and GM John Hammond also in the final year of his contract.