Kevin Love to have surgery on hand, out 8-10 weeks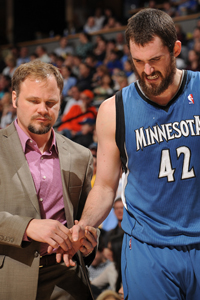 Love hurts.
(Getty Images)
Kevin Love saw a specialist in New York this week regarding his broken hand and the news... is not good. Love re-fractured his hand in a game against Denver earlier and was listed out up to six weeks, but after consulting a specialist, surgery has been deemed necessary. From the team:
The Minnesota Timberwolves today announced that after an examination by Dr. Andy Weiland, a hand specialist at Hospital for Special Surgery in New York, forward Kevin Love will require surgery to repair the third and fourth metacarpal in his right hand. He injured his hand during the third quarter of the Jan. 3 game at Denver.
Love is expected to miss 8-10 weeks. That puts him back in the middle of March. The Timberwolves, who only recently got Ricky Rubio back from ACL surgery recovery and who are without Chase Budinger for several more weeks, will have to try and stay above water in the brutal Western Conference without him.
Love has had a rough season overall, after comments expressing his continued frustration with management of the team an his concern over its direction. That wasn't helped by Love's struggles from the field upon his return to the floor. The team had actually been playing at a higher win percentage without Love, mostly because of continuity and rhythm, combined with Love's limited ability with the hand.
Love initially broke the hand in preseason doing knuckle pushups as part of his normal routine.
Derrick Williams is the Wolves' only 40 percent 3-point shooter and has been playing better, additionally the Wolves beat a very game Hawks team Tuesday night. But losing an MVP candidate is bad for business any way you look at it, and how the next few weeks go could have devastating impacts on the franchise, or maybe worse, the team may just have to chalk this up as a lost season.