Nightly Grades 1.10.13: Pacers ugly it up against the Knicks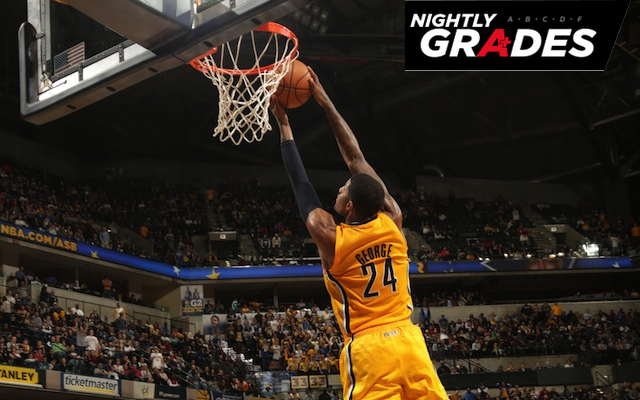 Paul George is blossoming.
(Getty Images)
Each night, Eye on Basketball brings you what you need to know about the games of the NBA. From great performances to terrible clock management the report card evaluates and eviscerates the good, the bad, and the ugly from the night that was.

| | | |
| --- | --- | --- |
| | Paul George | I don't want to say he's becoming a star, because he might already be one. Danny Granger will be back eventually, but a silver lining in his absence is that it has opened the door for George to blossom. He was dynamic against the Knicks on both ends on Thursday night, finishing with 24 points, 11 boards and five assists. |
| | Nicolas Batum | On a night during which he shared the floor with Dwyane Wade and LeBron James, Batum was the best player on the court. He did it on both ends, made huge plays everywhere for the Blazers and carried them at times offensively. |
| | Wesley Matthews | Bang, and bang. Two massive shots by Matthews in crunch time, one two tie the game, the next to put Portland up by one. |
| | Dallas Mavericks | They have finally overcome their overtime demon. The Mavs improved to 1-7 in extra time, recording a 113-110 overtime win over the Kings. When Isaiah Thomas banked in a miracle 3 to send it to OT, the Mavs probably were feeling a serious bout of "not again" but perservered and finally broke the streak. |
| | LeBron James | His consecutive streak of scoring 20 or more points ended at 54 games as he finished with 15 against Portland. But he still nearly registered a triple-double (10 rebounds, nine assists) and made a number of brilliant plays late. Had Ray Allen or Mario Chalmers knocked down open 3s, LeBron would've play-maked his way to a nice win. |
| | Indiana's style | It's effective, but it's messy, and boring. They try to rough you up, muck up the game and just wear you down over 48 minutes with their physicality. Granted, the Knicks were missing Carmelo Anthony, but the Pacers lulled them into the game they wanted and eventually just outlasted them. But it wasn't pretty basketball. |
| | Roy Hibbert | The Pacers' big man just doesn't have it right now. He finished with only four points and three boards in 19 minutes. |
| | New York Knicks | Sans Carmelo, they stunk. J.R. Smith scored 25 points, but on 10-29 shooting. As a team, they shot 34 percent. Remove Smith, and the other eight Knicks who played combined for 53 points. That's terrrible. Lesson being, Carmelo Anthony is important. |