Heat interested in Timofey Mozgov?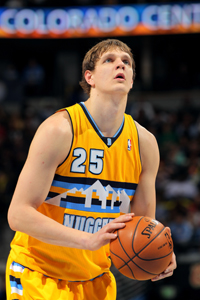 Mozgov to Miami?
(Getty Images)
The Heat have needed big-man help basically since Shaq retired. They managed to win an NBA championship last season in spite of it, using Chris Bosh at center and playing small.
Except this season, that's not working as well, as the Heat routinely get hammered on the boards. Bosh hasn't registered double figures in rebounds in seven games, and as a team, the Heat ranked dead last in the league in rebounds per game (38.6).
So with the trade deadline approaching, the Heat are likely to be active in tracking down a big man to help with that issue.
One target: the Nuggets' Timofey Mozgov. Via Fox Sports Florida:
An intriguing big man has emerged on the trading block that the Miami Heat could go after.

League sources said the Denver Nuggets are looking to deal center Timofey Mozgov, who has been unable to get much playing time on a deep team and has an expiring contract. Mozgov is aware he could be moved by the Feb. 21 trade deadline.

"It think it's logical, you can see that, trading me,'' Mozgov said in an interview with FOX Sports Florida. "I'm in my contract year. So if they can get something for me. … I don't think it would be a surprise for me (to be traded).''
Mozgov is making $2.8 million this season in Denver, and his contract expires in June. And he's not really fitting into Denver's current plans with
JaVale McGee
and
Kosta Koufos
getting most the time. So the Heat and Mozgov, pretty ideal fit, right? He thinks so too.
"I heard Miami is trying to find a big guy," Mozgov told Fox Sports Florida. "We'll see. I don't know [what might happen]."
The issue is, what do the Heat have to trade? Young point guard Norris Cole is a decent asset, except he only makes $1.1 million (meaning salaries don't match) and Denver already has Ty Lawson and Andre Miller.
The Heat own the 76ers' lottery-protected pick this season, which is a solid trade asset. But is a three-month rental of Mozgov worth that? If the Heat are desperate, sure. And considering their circumstance on the glass, they very well might be.
Mozgov, 26, is averaging 2.7 points and 3.0 rebounds in only 10.0 minutes.