Chris Paul says the Grizzlies would be 'crazy' to trade Rudy Gay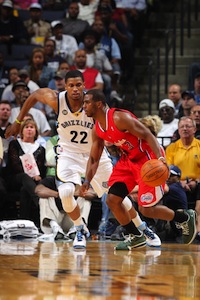 Rudy Gay and CP3.
(Getty Images)
Chris Paul and Rudy Gay are pals. They play on teams that appear to not like each other very much. But when CP3 was asked about the rumors floating around involving Gay and the trade deadline, Paul didn't hold back.
"Rudy is one of my closest friends," Paul told reporters, via the Commercial Appeal. "Rudy was at my wedding. His fianceé and my wife talk every day. So they'd be crazy to get rid of Rudy."
It's the continuing discussion for the Grizzlies. Do you trade Gay, who gives you an isolation and perimeter scoring threat? Or do you keep him and figure out how to make him fit with Zach Randolph and Marc Gasol?
In the Clippers' beatdown of the Grizzlies on Monday, Memphis struggled scoring the ball, shooting a season-worst 30 percent from the floor and had its worst home loss of the season, a 99-73 drubbing. And guess what: Rudy Gay didn't play. He was in Baltimore attending the funeral for his grandmother.
The Grizzlies are 24-12, but they've gone through a stretch winning just half of their last 14 games. Which is when the trade buzz started happening around Gay's name. Part of it is financially motivated. Gay is owed almost $37 million over the next two seasons with the Grizzlies currently about $4 million over the tax line.
But it's also a question of fit. Something that Paul sees as no issue.
"Rudy is a big piece to that team," said Paul. "Without him, they definitely have to make adjustments. You can't replace Rudy with any one person in their locker room. They'd be crazy to trade Rudy."