Derrick Rose to return to practice this week?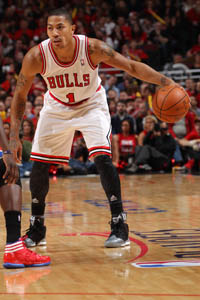 Derrick Rose is close.
(Getty Images)
The Bulls are surviving without Derrick Rose. Coming off Monday's win over the Lakers, the Bulls are 24-16 and sitting firmly in the Eastern playoff picture. The plan always was to keep their heads above water while they waited for their star to return.
And he could be getting close.
Via NBA.com, Tom Thibodeau told reporters that Rose could be returning to the practice floor as early as this week.
Derrick Rose could be on the practice floor as soon as Tuesday. If not then, maybe Thursday.

Chicago coach Tom Thibodeau said Monday evening that Rose, rehabbing his way back from ACL knee surgery, is "very close" to beginning full-contact practice. "That'll be the next step," the Bulls coach said before facing the Los Angeles Lakers Monday night at United Center. Did "very close" mean this week? "Yeah," Thibodeau said. "Could. … It could."
In order to play, you've got to practice. Test the knee, test the conditioning, shake some rust off.
It doesn't mean Rose's return to the floor will follow shortly after, though. He hasn't been on a specific timetable, but all indications have pointed toward a post-All-Star return, mostly likely sometime in March.
"Everyone has to be patient," Thibodeau said. "He's doing his part -- he's showing great patience. Everybody else has to. He's got to concentrate on the rehab. Guys have to focus on the opponent and their improvement. And then when he's ready -- whenever it is -- that's when he comes back.
"Not earlier than he's ready. Not later. Our doctors have been on top of it since Day 1. Everyone just has to show patience."
The better the Bulls play, the less of a rush they'll be in to get Rose back. The plan appears to be: position themselves for the postseason, then return Rose in enough time to get tuned back up for the playoffs.