Three All-Star Game snubs for each conference
I have good news and bad news for the snubs of the Western Conference. The bad news is LaMarcus Aldridge of the Portland Trail Blazers and Zach Randolph of the Memphis Grizzlies made the 2013 Western Conference All-Star team, which has some people in a tizzy. These guys are apparently the two least deserving members, according to the outrage I observed on Twitter.
The good news is there is no way Tim Duncan doesn't sub himself off the team for the weekend and allow David Stern to pick an "injury" replacement. While this could lead to someone suing the Western Conference All-Star team over suffering economical damages, it could also lead to one of the three Western Conference guys below getting the All-Star nod for this season.
In the Eastern Conference, there are five first-time All-Stars. Unless Kevin Garnett decides to bow out due to his age and needing rest, you're probably not going to see any of these guys sneak in as an injury replacement. There could always be an injury in the next couple of weeks to one of the Eastern Conference All-Stars, but we don't want to root for that.
Western Conference Snubs by Zach Harper
1. Stephen Curry , Golden State Warriors
People seem to be pretty upset about Curry not making the Western Conference All-Star team, and it's not just people who root for the team by the Bay. Curry has been incredible this season, as he shows us exactly what he can do with two good ankles. The Warriors have been one of the most entertaining teams in the West and one of the most successful. They're currently sitting in the fifth seed with a 24-18 record. Curry has been a huge part of that.
He's averaging 20.9 points, 6.6 assists, and 4.1 rebounds with shooting percentage of 43.6 percent from the field, 45.1 percent from 3-point range, and 89.4 percent from the free-throw line. He has a PER of 19.6 and is second in the league in 3-pointers made. The fact that he's taken 7.1 3-point attempts per game and still making the league's third highest percentage is incredible. He's the only player in NBA history to shoot at least seven attempts per game and make more than 45 percent.
2. Marc Gasol, Memphis Grizzlies
Gasol is not the sexy pick, but he's a pick everybody is willing to get defensive over. This is probably because he's been arguably the best defensive player in the NBA this season. The Memphis Grizzlies are second in the NBA in defensive rating at 96.9 points per 100 possessions given up. The Indiana Pacers are first in the league with a rating of 95.9. The reason the Grizzlies aren't first is they can't keep up the defensive effort and tone Gasol sets for them.
When he's on the court, Memphis has a defensive rating of 95.7, which would make them the best defensive team in the NBA. Outside of that, Gasol's statistics are unique and versatile. He averages 13.2 points, 7.4 rebounds, 3.5 assists, and 1.8 blocks. Josh Smith is the only other player to average at least 13-7-3.5-1.5 in the NBA. Actually, he isn't an All-Star either this season. Maybe that's not such a good thing.
3. Serge Ibaka, Oklahoma City Thunder
I had a hard time picking a third snub in the Western Conference because it's hard to make a real case for anybody with Gasol and Curry already getting snubbed. I think you have a much easier time finding a third snub in the Eastern Conference. It was between Ibaka and Jamal Crawford for my third snub and I couldn't go with my actual pick of Jamerge Crawbaka. I went with Ibaka because I believe Curry was a bigger snub over Gasol, so it's hard to say a different guard was snubbed.
Serge Ibaka is still a guy people would like to see become a better defender. He's one of the top shot blockers in the NBA, but that leaves his team at a disadvantage at times when he's overly aggressive going for the block. He can find himself out of position while hunting down swats. His improvement on the offensive end of the floor is impressive, though. He's making 56.0 percent of his shots and it's not just coming from dunking. 4.3 of his 10.6 attempts from the field come from 16-23 feet, where he's making 46.0 percent of his shots. Ibaka has become an offensive safety valve for the Thunder, and helped round out their offense without James Harden there.
Eastern Conference Snubs by Matt Moore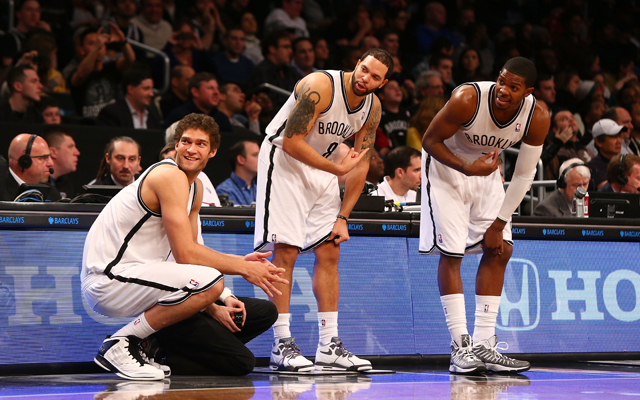 Brook Lopez is stuck with these guys All-Star Weekend.
(Getty Images)
This is the worst snub of the entire process. It is not close. Brook Lopez has been the best player on a 26-16, third-best team in the East. He is the primary offensive weapon for one of the league's best offenses, and has established himself as the best scoring center in the league.
He has the third best PER of any player in the East, averaging 19 points per game on 52 percent shooting (23 points per 36 minutes). He was criticized for his rebounding, and has posted 7.4 (9.1 per 36 minutes) with a 15.0 rebound percentage (percentage of all available rebounds). That last number is particularly important because the Nets play at a snail's pace. His rebound numbers are actually better than they look, and they look good. For comparison's sake, Chris Bosh has a 12.9 rebound percentage.
He was a defensive nothing coming into the season and has developed into a solid, totally fine defensive player who occasionally can make a terrific stop. And while All-Star shouldn't factor in improvement, his only weak point is not a weak point any longer, and his offensive strengths are superior to his counterparts.
The Nets have all this star talent, but they've all underperformed while Lopez has thrived, and done so with monstrous expectations. He is the best overall center in the East and his exclusion is a serious black mark on the selecton process. Tyson Chandler has been good. Chris Bosh has been good. Luol Deng has been great.
Brook Lopez has been better.
Paul George earned his first All-Star appearance, and rightfully so, but versus some other teams whose contributions were not as evenly spread but who garnered mutliple selections, the Pacers deserve two.
George may be the spark that ignites the Pacers, but it's West who is the steady engine to make the team go. He's a fourth-quarter assassin, leading the Pacers in scoring in the final frame. He's a tough-minded player who will make the plays he needs to. It's difficult to see how the Pacers would be in the position they are if it weren't for West.
I don't think that just because a team wins games that it needs an All-Star. But I think it's difficult to justify leaving all the Hawks off the team. Josh Smith would be a lock if he stopped with the damn mid-range jumpshots. Jeff Teague is getting there but hasn't made the jump.
And then there's Horford. Smartest player, biggest cog in the offense, excellent passer, terrific defender, and maybe the most versatile center in the East. The Hawks haven't just randomly landed six games over. 500. And Horford deserves the most credit for it.