So, will the Bobcats become the Hornets now?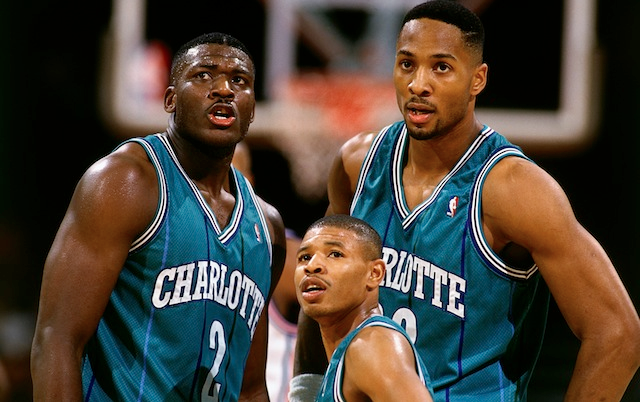 Ah, those were the days.
(Getty Images)
The first thing that most people did after deciding whether they hated the name Pelicans and their subsequent logo and colors was wonder if the Hornets dropping their name means that it will return to its rightful owner.
Would the Charlotte Bobcats, named after their first owner, Bob Johnson (seriously), reclaim the city's original NBA nickname and become the Charlotte Hornets?
(If you're unaware: The Pelicans were actually the first Hornets, not in New Orleans, but Charlotte. From 1988 to 2002, the Hornets played in Charlotte before relocating to New Orleans.)
Changing a name in the NBA is a pretty complicated process, one that takes roughly two years to complete -- sometimes quicker if the league wants to expedite things. So it's not like the Bobcats can just start going by Hornets tomorrow. It takes time. And, on top of that, the Bobcats have to actually decide if they want to change.
Michael Jordan has said in the past that he's interested in being re-branded the Hornets. And while MJ almost always gets his way, there are obstacles.
According to the Charlotte Observer, the Bobcats have hired a firm (Harris Interactive) to poll season-ticket holders and fans about their desire to change names. It costs roughly $3 million to switch the nickname, but it's something the Bobcats could expect to recoup because there will certainly be a rush of merchandise sales. Nostalgia is a powerful thing, and most everyone remembers the good old days with Zo, LJ and Muggsy playing for the Hornets.
Will the team be changing, though? The Observer reports team president Fred Whitfield won't say. Another question: Who owns the Hornets name right now? The NBA does, technically, and has a prepared statement in regard to what it's doing with it:
"[The league is] continuing to work with the Charlotte Bobcats on exploring whether a name change is in the long-term interest of their team.''
So it's no slam dunk. I'd say it's likely, because with the lack of success the Bobcats have had under their current name, especially in connecting to the community, changing the name could be a welcome fresh start for the organization. Especially since it's under new ownership now with a new direction.
But it's not about nostalgia and branding for the Bobcats. It's about fan interest, which is why they're trying to listen. What they care about is selling tickets and merchandise, not just pleasing people who think Hornets is a cooler name than Bobcats. They want to know if the team being called Hornets and them wearing teal and yellow would make you more likely to attend games.
And if they find the answer to that question is yes, then this will get done and probably done soon.