Hawks' Josh Smith: 'I feel like I'm a max player'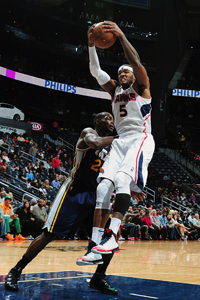 Smith wants the max.
(Getty Images)
Josh Smith is set to be an unrestricted free agent this summer, maybe the gem of the class, depending on what happens with Dwight Howard.
Smith has played all nine seasons of his career for the Atlanta Hawks, experiencing ups and downs with the organization and fan base. He's a fantastically versatile and talented player but one who has come with some frustrations.
He's just 27 and has put together three consecutive seasons of high-level basketball. He's definitely set for a payday. What kind of payday? Well, if you ask Smith, the highest kind.
"I feel like I'm a max player," Smith said, via The Atlanta Journal-Constitution. "I feel I bring a lot to the table. I have a lot of versatility. For what I do and what I give this ballclub, I feel like I'm worth it."
The obvious question is if other league executives feel the same way about Smith. Knowing the NBA, someone probably does.
The Hawks have been down this path before with Joe Johnson, giving him the only max contract in franchise history. They overpaid dearly for him (six years, $120 million), but their hand was really forced. They knew if they didn't pay up, someone else would.
A max for Smith would be five years and close to $94 million. Which is almost as much as Johnson got, a move the Hawks seemed to regret almost the moment after they inked him.
Smith was asked about that, too, the Hawks having an unfortunate history with max deals.
"There shouldn't be any hesitation. I'm Josh Smith; I'm not anybody else. I'm not Michael Jordan. I'm not LeBron James. I'm not Brook Lopez. I'm Josh Smith. You can't look at what might've happened with another person. Let's say Joe. You can't say, 'I'm skeptical of giving another person that' because of whatever they feel like happened."
Smith's situation will become much more intriguing as the trade deadline nears. With the Hawks losing Lou Williams for the rest of the season, any high hopes were likely dashed right then. They're still 25-18 and sixth in the East, but the consensus is they aren't going deep into the postseason.
So would the Hawks just cut ties with Smith now and try to get assets back? It's a possibility for sure, especially if he's feeling he's due a max-level deal.