Fan trying to raise $1 million to get LeBron to join dunk contest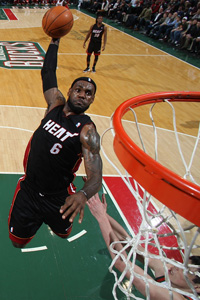 Not even for $1 million?
(Getty Images)
Once upon a time, LeBron James said he'd consider participating in the dunk contest if the winner got $1 million.
Obviously, that didn't happen. LeBron didn't dunk, and nobody offered up a $1 million.
But now, someone is trying to put LeBron's dunking where his mouth is.
Via Mashable, enterprising fan Chris Thomas has hatched an idea to raise $1 million to try to entice LeBron to dunk. The plan is simple: Raise as much money as possible, then bait LeBron by offering it to the LeBron James Family Foundation, but only if he dunks. A take-it-or-leave-it proposal.
If LeBron decides to pass, then the money is redistributed back to the donors.
(Here's the link to donate, if you're interesting in giving $500,000 or so.)
LeBron just recently said he'd never do the dunk contest, citing injury concerns and his age.
"No," he said. "It's over with. I'm getting too old."
But LeBron's soft spot is his charities. He put on The Decision to raise money for the Boys and Girls Club. And that freakout when the guy hit the halfcourt shot was partly generated by the fact that his foundation was seeing a cut of the money.
Thomas has raised a little more than $3,100 for his cause. Not a substantial amount by any means, but this is clearly a traction thing. The more it gains, the more interest there is, the more chance for donations.
And who knows? Maybe Warren Buffett is a dunk fan.