Brook Lopez will replace Rajon Rondo on Eastern All-Star team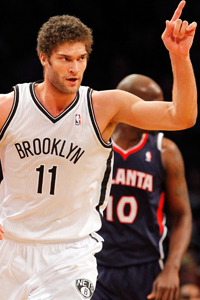 Lopez is now in.
(Getty Images)
One of the biggest All-Stars snubs is rightfully now claiming a spot.
The league announced Wednesday that Brooklyn big man Brook Lopez will replace Rajon Rondo on the Eastern Conference team. Rondo is unable to play because of a torn ACL that has him out for the remainder of the season.
Originally, the Nets, who are fourth in the East at 27-18, didn't have a single All-Star. Lopez had the best case of anyone on the team, averaging 18.6 points and 7.3 rebounds with a robust PER of 25.23.
Lopez was seen as one of the biggest snubs in the selection, because of the Nets' record and his contribution to their success.
Possibly, though, he was originally left off because the East was already so deep with big men. Without Rondo, the East is now features only three guards -- Kyrie Irving, Dwyane Wade and Jrue Holiday.
Rondo's starting replacement will be determined by the Eastern Conference coach. It will likely be Irving.
The All-Star Game is scheduled for Feb. 17 in Houston.