Celtics' Jared Sullinger (back) out for remainder of the season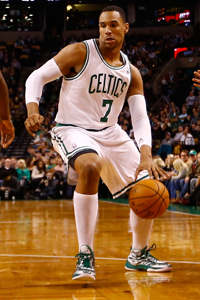 Jared Sullinger.
(Getty Images)
The hits, they just keep on coming for the Celtics.
Less than a week after losing point guard Rajon Rondo for the season with a torn ACL, the Celtics have also lost promising rookie forward Jared Sullinger because of a back injury that will require surgery, Ken Berger of CBSSports.com confirms. Yahoo Sports first reported the news.
Oof.
Sullinger, 20, had his back medically red-flagged prior to the draft, which caused him to plummet all the way to the Celtics at No. 21. Prior to that, he was projected as a sure-thing lottery pick.
The Celtics sit eighth in the East at 22-23. With this injury added to the Rondo injury, it obviously brings back the question of if the Celtics need to let this season go and start moving pieces around. Because while Sullinger was just a rookie, he was steadily becoming a solid contributor off the bench.
Boston's front line was one of the remaining strengths of the team with Kevin Garnett, Chris Wilcox, Sullinger and Brandon Bass.
Danny Ainge recently said he had no interest in "blowing up" the roster in the wake of the Rondo injury, but with another key player down for the season, it may cause him to re-evaluate with the trade deadline about three weeks away.
Sullinger averaged 6.0 points and 5.9 rebounds.