Dwight Howard returns to LA for shoulder treatment, out Friday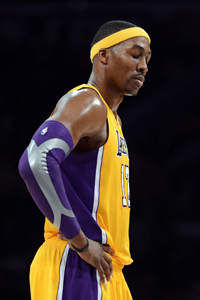 Dwight Howard
(Getty Images)
Dwight Howard reinjured his shoulder Wednesday night in Phoenix. As a result, he was listed as day-to-day. There were no tests run on Howard on Thursday as the team said he would be re-evaluated the next day. Friday's evaluation, though, changed the conversation. Howard is headed back to Los Angeles and will receive a platelet-rich plasma procedure, the Lakers announced Friday afternoon. He will then travel back to join the team in Detroit as it continues its road trip, and will be day-to-day after that.
On the one hand, it's not surgery. On the other, it is an alternative treatment and you have to worry about Howard re-injuring the shoulder again. The Lakers had just started to make headway on this nightmare of a season. After Howard left the game Wednesday, the Suns went on a hellacious run to close out the Lakers at home, with many points coming by exploiting Pau Gasol's defense.
The Lakers are in Minnesota to face the far more injury-ravaged Timberwolves Friday night as they continue "the Grammy trip." Howard could be back Saturday, he could be out a few more days. We'll keep you posted.