Adidas unveils seven 1990s retro jerseys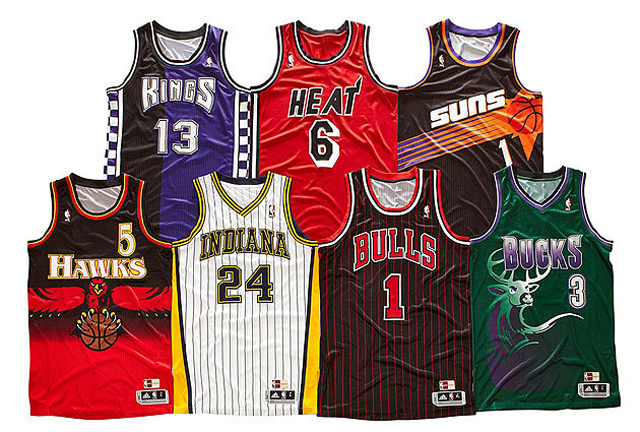 My eyes.
(Adidas)
Seven teams are breaking out 1990s retro jerseys, and boy do they take you back.
The Phoenix Suns already wore theirs Wednesday against the Lakers and four other teams will sport theirs Friday (Bucks, Bulls, Heat and Pacers). The Hawks and Kings will break their retro duds out later in the month.
Here's how the jerseys are described:
• Atlanta Hawks "Spreadwings" home uniform ('98-99 season): Features the Atlanta Hawk stretching its wings across the front of the jersey

• Chicago Bulls "Pinstripe" alternate road uniform ('95-96 season): Features red stripes on a black jersey with red and white trim

• Indiana Pacers "Classic pinstripe" home uniform ('96-97 season): Features navy stripes on a white jersey with gold and navy trim

• Miami Heat "Deep Red" alternate road uniform ('95-96 season): Features black and white letters and numbers on a red jersey with black and white trim

• Milwaukee Bucks "Full Buck" alternate road uniform ('95-96 season): Features a purple and white buck next to the number on the front of a hunter green jersey

• Phoenix Suns "Steaming Sun" alternate road uniform ('94-95 season): Features a sun blasting diagonally across the chest above the number on a black jersey.

• Sacramento Kings "Checkerboard" uniform ('96-97 season): Features purple and white checkers on the sides of the jersey and shorts with the left side of the jersey colored purple and the right side colored black
Being a child of the 1990s, I must say, these are fantastic. Fantastically terrible, but still, fantastic nonetheless. I mean, just look at how awful that Hawks jersey is. What were they thinking?
There's just something about the retro look, something about seeing jerseys that were worn in another time brought to life again in the present. Some are better than others -- Suns, Heat and Pacers are all solid -- but it's good to be taken back to the days of Cedric Ceballos, Steve Smith, Rik Smits and Glenn Robinson.
Those really weren't the days, but it's fun to see these jerseys again anyway.