Kobe Bryant says his feud with Shaq is over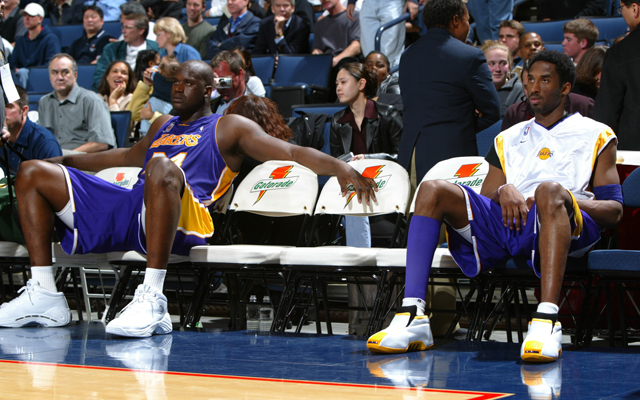 Kobe and Shaq aren't this far apart anymore.
(Getty Images)
Everyone can relax: Kobe Bryant says his feud with Shaquille O'Neal is over.
No more "Tell me how my a-- taste." No more Kobe saying Shaq is "fat and out of shape."
Shaq was in attendance at Tuesday's Laker game against Phoenix (before he was escorted out by security guard Will Ferrell, that is). And Kobe says he and the big fella have buried the hatchet. Via ESPN LA:
"It was good to see him," Bryant said after O'Neal sat in courtside seats for the Lakers' 91-85 win over the Phoenix Suns on Tuesday. "I had a chance to kind of catch up with him a little bit after the [Miami] Heat game here at Staples [on Jan. 17], and tonight we got a couple good laughs, a couple good inside jokes…

"Shaq and I have a really, really good relationship now," Bryant said of the 15-time All-Star with whom he teamed to capture three straight NBA championships from 2000 to '02.

"It's good. I think it's a good lesson for all of us."

Bryant exchanged several glances with O'Neal during the game, particularly after the big man was on the kiss cam pretending to make out with the man sitting next to him. O'Neal was later "escorted" out of the arena after the third quarter by actor Will Ferrell, who was dressed as a Staples Center security guard complete with a red jacket and identity badge.

"I think we appreciate each other more now than ever," Bryant said. "I think the further you get away from the history that you had together, the more you put perspective on it on how dominant we were.

"It's fun for us to kind of get together again and kind of reminisce on some of the old stories. It's fun. It's good to see him."
D'awwwwwww.
But seriously, that's nice to hear. It got pretty ugly between those two. Between freestyle raps, book excerpts and whatever else, there was real and genuine animosity between them.
That duo won three rings together, which means they're forever tied together in Laker history. Years from now when they honor those teams, they'll be together hugging and raising each other's arms. If this wasn't put behind them, that reunion would be just as awkward as ever.
Now that they're older -- and more importantly, not teammates anymore -- moving past their differences wasn't too tough. Like Kobe said, he's learned from it and hopefully is better off.