Rockets owner Alexander says team will keep Daryl Morey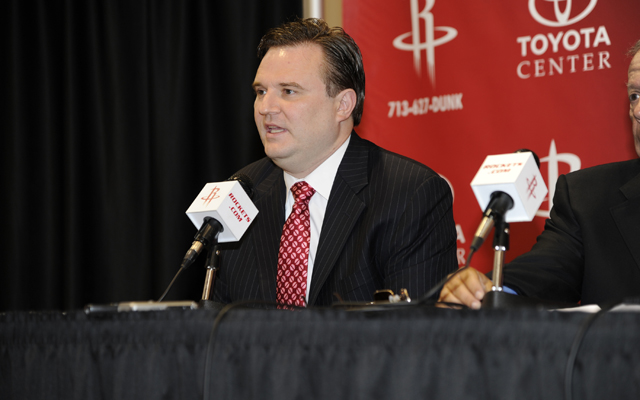 There's a saying: Daryl Morey runs the game.
(Getty Images)
The geeks shall continue to inherit the Earth.
Rockets GM Daryl Morey has been lauded for his tenure in Houston in which he's continually made smart deals in trades and free agency, leveraging resources for continual improvements, short or long term. Prior to this summer. there were concerns he was running out of steam, unable to complete the big deal, with the Rockets having been unable to make a serious run and having failed at attracting a marquee name despite attempts to lure Carmelo Anthony, Dwight Howard, and others.
But the James Harden deal changed all that, and despite Houston still hovering around the 8th seed which is where they've been the past four seasons, there's a different sense. Harden gives them the superstar they wanted, and that opens the door to making a run as a contender.
Morey's contract expires after next season, and Houston owner Leslie Alexander said during All-Star Weekend in his city that he expects to keep "Dork Elvis" for the forseeable future:
"His contract is up next year, I believe," Alexander said on Saturday. "We'll re-up him. Daryl knows that I judge him all the time. I've told him. He's not shy about it, either. He just knows that's the way I operate. Why wouldn't I? The general manager is the one person in your organization you can really judge. He can make good moves or bad moves. This year, I think he's made three terrific moves."
via Ultimate Rockets » Rockets owner plans to extend GM Morey's contract.
It's good to see a GM that leverages all resources and makes smart moves rewarded. Too often GM's without a track record of success are rewarded while executives with bigger plans or an eye for the smaller deal get canned. That said, you need a little luck, like Harden coming available. But on the other hand, Morey was also the man who put himself into position to have the assets the Thunder wanted without mortgaging his entire team.
Looks like all that analytics stuff isn't so much a fad.