Report: Celtics, Nets have discussed Paul Pierce deal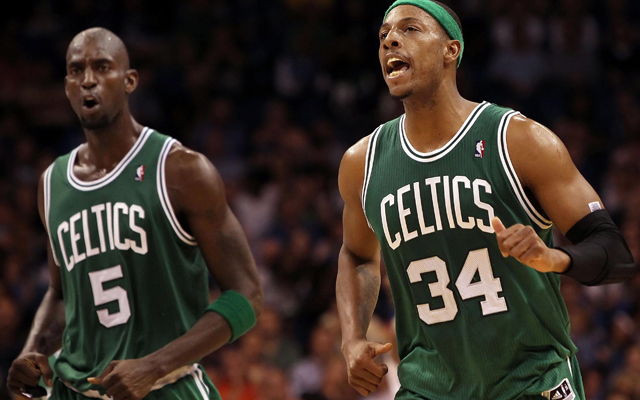 Pierce on the block, but Nets can't put an offer together.
(Getty Images)
In the continuing saga of "how much money can the Nets put on their books without winning a championship," Yahoo Sports reports that the Nets and Celtics have talked about a deal that would send The Truth, Paul Pierce, to the Nets.
The Boston Celtics and Brooklyn Nets have discussed a trade for Celtics star Paul Pierce, league sources told Yahoo! Sports.The Nets offer centered on forward Kris Humphries, guard MarShon Brooks and a first-round draft pick, but the Celtics want a more substantial package to consider moving Pierce, league sources said.

"The Celtics still highly value Pierce and it wouldnt make sense to trade him for that kind of a package if they're keeping Kevin Garnett," one league source said.

Boston has shown interest in forward Mirza Teletovic and securing another possible first-round pick, but the Nets have shown no inclination to pay that steep of a price for Pierce.
(via NBA trade deadline buzz: Nets make offer for Celtics guard Paul Pierce - Yahoo! Sports)
The Nets pretty much are just targeting the biggest, most expensive pieces they can, but unfortunately, they can't afford to move anyone of value because they overpaid for all of them in the offseason. Gerald Wallace is still a quality player but he's got three years and $30 million left on his deal.
The Nets would love to send Kris Humphries out and have pretty much peddled him to everyone in the league, and then being surprised when everyone responds with "Do you realize how much you paid him?"
Meanwhile, the Celtics continue to shop their core players in Rondo, Garnett, and Pierce, but asking a high enough price to put the probabilities they make any move of the Big 3 at less than 20 percent.
This thing is indicative of this trade deadline. Lot of talk of things which don't make sense, little action.