Thunder trade Eric Maynor to the Trail Blazers for Giorgos Printezis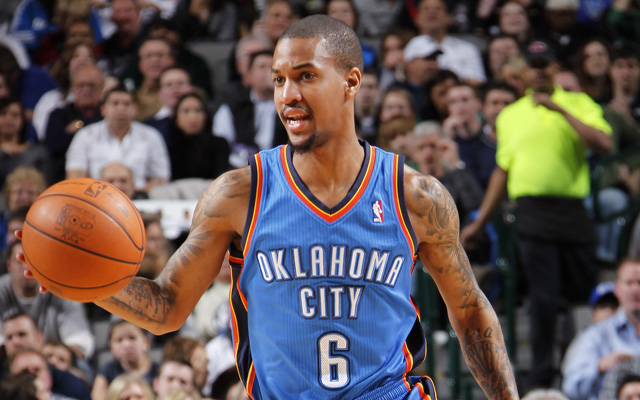 The Portland Trail Blazers finally have a backup point guard.
(Getty Images)
The Oklahoma City Thunder are trading backup point guard Eric Maynor to the Portland Trail Blazers in exchange for the draft rights to Giorgos Printezis, according to Ken Berger of CBSSports.com.
With the Trail Blazers desperate for some production and depth off the bench, acquiring Maynor -- who is about 13 months removed from ACL surgery -- seems like a solid move. Before this move, Portland was trying to find some kind of consistency with either Nolan Smith or Ronnie Price playing backup point to Damian Lillard. Now they have someone who can continue to get stronger from his knee injury and get back to being one of the better backup point guards in the league, like he was before the injury.
For the Thunder, they get away from the luxury tax and get the flexibility to add Ronnie Brewer in a trade with the Knicks. They were about $800,000 away from the luxury tax threshold of $70.3 million on the payroll before this deal and shed Maynor's $2.3 million contract in the process. Brewer's contract is the veteran's minimum and expires this summer.
With the emergence of Reggie Jackson at the backup point guard position lately, Maynor became expendable for OKC. He has struggled in his return from the injury by shooting just 31.3 percent from the field and a PER of just 7.5. He hasn't played double-digit minutes in a game since Dec. 17.
Giorgos Printezis is a 27-year old big man currently playing for Olympiakos in the Greek League.