Danny Granger likely to return tonight, will come off the bench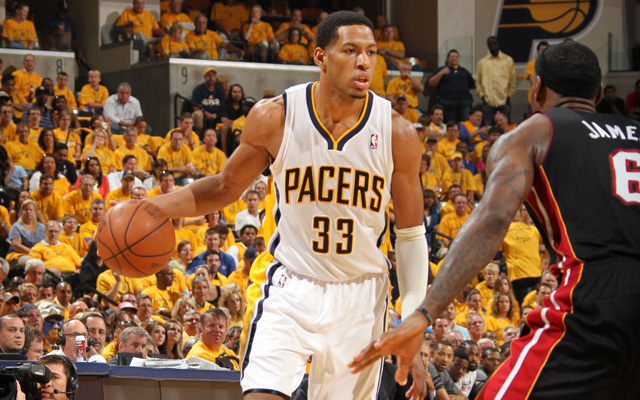 The Pacers might be the biggest winners of the trade deadline, and they didn't even make a move.
As first reported by the Indianapolis Star and confirmed by Ken Berger of CBSSports.com, small forward Danny Granger is expected to make his return to the floor Saturday night against the Pistons. According to Berger, Granger will come off the bench for Indiana.
Granger played in the Pacers' first two preseason games but has missed every regular-seasons game so far because of left knee soreness. In his absence, the Pacers have played extremely well, finding a strong defensive identity as Paul George has blossomed into an All-Star player.
The Pacers sit second in the East behind the Heat at 34-21. They're the top defensive team in basketball, by a fairly wide margin, giving up only 95.4 points per 100 possessions. Like I said, they've built an extremely rugged defensive identity and have fit in behind the emergence of George as well as the steady veteran play of David West.
Adding Granger to the mix could either be something that catapults the Pacers forward, or it could potentially disrupt what they have going. Granger is an All-Star-caliber player himself, being someone who has averaged better than 20 points a game three times. He's been the primary offensive focus for Indiana the past few seasons, but could find himself taking a back seat for now.
Especially with a bench role being in his immediate future. Granger was a player who was potentially floated in a few trade proposals, but the Pacers ultimately decided to hang on to him and hope he gives them a major offensive boost going forward. And if he does, he'll be the biggest acquisition anyone made in February.