Doc Rivers is more focused on health than postseason seeding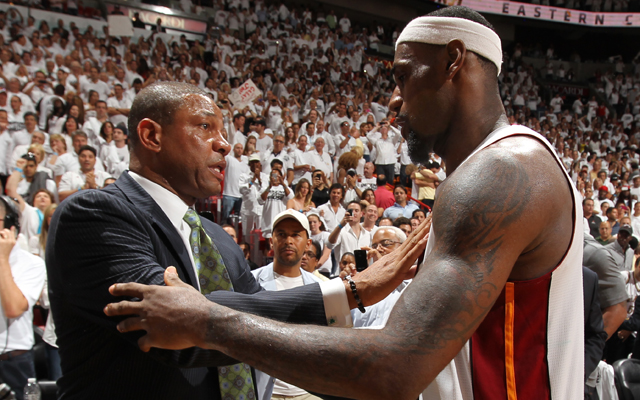 The Celtics have had a tough run of bad luck with health but have managed to scrap together enough wins to basically cement their position in the postseason.
Sitting at 29-27, which has them seventh and six games clear of the Raptors (who are ninth), the Celtics are sure to be in the playoffs. If the season ended Monday -- which it doesn't, so that's stupid to say, I know -- the Celtics would face the Pacers in the opening round of the playoffs.
They're three games behind Chicago for sixth, and three games behind Atlanta for fifth. With 26 games to go, they're actually within striking distance of the four-seed (3.5 games). If they pushed, they could possibly climb the seeding ladder.
But that's not the plan, says Doc Rivers. Via ESPN Boston:
"Listen we're not going to be a 1 seed, we know that, so we just want to be a seed," Rivers said before Friday's game in Phoenix… "The neat thing is that we are very close to the fifth seed… But [the focus is] going to be health now for sure for us."
I think for Boston, they just want to make sure they aren't the eight-seed. Because that puts you against Miami in the first round, which is basically a death sentence.
Obviously, the Celtics have been bitten hard this season, losing Rajon Rondo, Leandro Barbosa and Jared Sullinger for the season because of injury. But they've pieced enough together and found a second wind behind a rejuvinated Paul Pierce and Kevin Garnett's always-tough play. Just because of their will, they're a dangerous team, especially because they're believing more and more.
Relevant, though -- The Celtics play 14 of their final 26 games on the road, which certainly will influence Rivers' thinking. And the Celtics are old dogs -- they're not concerned with seeding as much as they are having their team intact. They just want to be in. And not playing Miami until preferably the Eastern Conference finals. So the seven seed might just be perfect after all.