LeBron James says he ran a 4.6 40 over the summer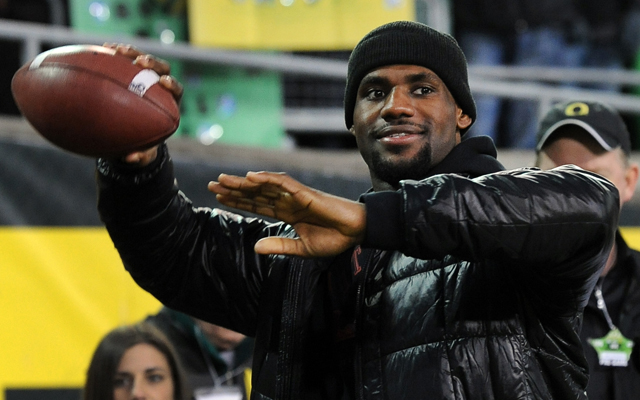 With the NFL Draft Combine playing in the Miami Heat locker room, LeBron James was asked what he could run a 40-yard dash in.
His answer: 4.6 seconds.
"I was just messing around, though," LeBron said, via ESPN.com. "No training."
LeBron played football in high school at St. Vincent-St. Mary and was named an All-State receiver as a sophomore. If he decided he wanted to play football even now, he'd probably have 32 NFL general managers drooling over him.
Messing around or completely serious, 4.6 is pretty darn good. Especially when you remember that LeBron is a 6-foot-8, 250-pound beast.
"It's better than Manti Te'o, I'll tell you that," LeBron said, via the Sun-Sentinel.
Te'o ran a 4.82.
LeBron would most likely be a tight end in the NFL, and if his 4.6 is accurate, only two other TEs ran faster than him at this season's combine. Top running back Montee Ball from Wisconsin ran a 4.66.
So yeah, LeBron's a freak.