Heat casually continue their run of domination, with no end in sight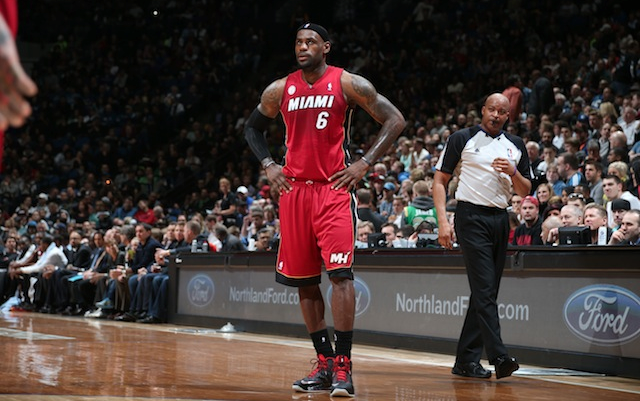 That's now 15 in a row for the Miami Heat. Three better than they've ever done in the Big 3 era.
And here's the thing: It's probably not even close to over yet.
Miami's next five games: home against Orlando, Philadelphia, Indiana and Atlanta, then a road game against the 76ers. Heck, keep going. Then it's road games against Milwaukee, Toronto, Boston and Cleveland. Teams slip up and streaks end, but with the way the Heat are playing, envisioning a 20-game, or even a 25-game winning streak isn't all that difficult to do.
(Note: The 15-game streak is the longest in Heat history. The longest this season was 17 games by the Clippers. The longest in NBA history is 33 by the 1971-72 Lakers.)
More on Heat-Timberwolves
Related links
With a 97-81 whipping of the Timberwolves on Monday, the Heat continued their methodical march into a class of their own. Everyone knew they were set to be a title contender this season, but after some iffy stretches that featured random road losses in December and some uncharacteristically shoddy defense, there were worries. Were they complancent? Bored? Not as good?
I think the answer might've been they were still a little drunk on the championship. Shaking off the high of raising a banner probably isn't easy to do. Especially when Miami's was as monumental as it was. They slacked in areas that were previous strengths. Now, they're hitting a standard of performance that makes the 2013 NBA championship very clearly theirs to lose.
What's funny, too, is that the Heat really don't have much to play for right now, either. They've put a death grip on the top seed in the East -- they're seven games up on the Pacers with 24 games to play -- and outside of locking up homecourt through the postseason, probably are more concerned with health and rest than going for a 25-game streak.
Except that doesn't really seem to be the Heat's approach. For example, LeBron James tweaked his knee Sunday against the Knicks, opening a possible door for him to rest against an already overmatched Wolves team Monday night. Except there really was never a doubt LeBron was playing. The Heat are clearly in the process of trying to establish that standard of performance, trying to get themselves right for the postseason.
So they're on a warpath right now. The last game they lost was Feb. 1 in Indiana, dropping the Heat to 0-2 against the Pacers this season. And with Indiana being one of the teams on the horizon for them, it's doubtful there's going to be any letup from this Miami group.
It's funny to think back to 2010 when this Heat team came together and we all scoffed at their 9-8 start and then later at their failure in the Finals against Dallas. Now, with a ring in their pocket and apparently stampeding to a second, we're all willing to concede that LeBron's proclamation of not one, not two, not three ... might just indeed be their future.
Because when the Heat are serious about it, as they are right now, they're darn near unstoppable.