Hornets' Austin Rivers out 4-6 weeks with broken hand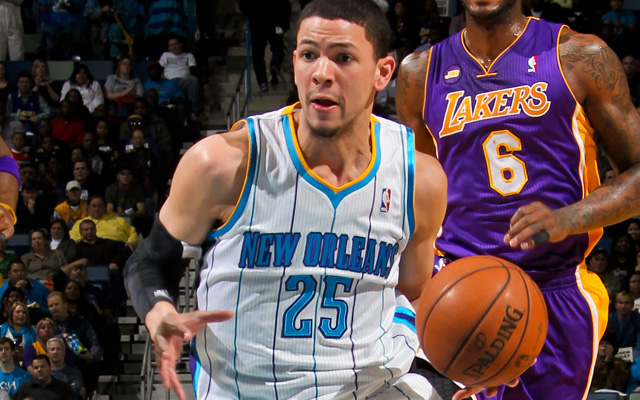 Austin Rivers has had some kind of tough rookie season. Of this entire rookie class, no player has looked more rookie than Rivers. Bad decisions, bad shooting, overwhelmed by the speed of the NBA game -- it just wasn't going well.
But he had begun to turn things around some recently. Which is what makes news of his hand injury that much tougher to hear.
The Hornets announced late Wednesday that Rivers will sit a month or more because of a broken bone in his right hand suffered against the Lakers.
After a horrific first three months, Rivers was turning a corner the past few weeks. For the season, Rivers is shooting a dismal 37.2 percent from the field but shot 44.6 percent in February (while averaging 6.3 points). And in three games in March, he was shooting 70.6 percent (12 for 17 for 8.7 points).
On Twitter, Rivers lamented the tough injury:
Just when I started to get rollin in this league! Smh... God works in Mysterious ways, this is a test he's putting me through to get better.

— Austin Rivers (@AustinRivers25) March 7, 2013
It's no consolation, but it happens. The NBA is a cruel, cruel league. This injury could cause him to miss the remainder of the regular season (if it's six weeks, the Hornets' final game is almost exactly that far away).
In truth, it might just be best to sit him down anyway; no need to rush him back. And the fact that Rivers is going out on a high note is going to boost his confidence and give him something to build on. It's proven to the Hornets some that he's developing.
Part of the complication for Rivers is that he doesn't have a set spot in the Hornets' rotation. With the emergence of Greivis Vasquez to go with Eric Gordon, Rivers has assumed the role of offensive bench spark and, at times, overdid it. As he showed the past couple weeks, he was finally settling into a role and understanding what was expected of him.
We all like to judge rookies far too quickly and make determinations on their entire careers based on their first 50 games in a brand new world. Rivers had many pile on him for his tough start but has proven as of late that he has a future. The hand injury is a major bummer, but like the first couple months of this season, don't give up on him yet.