After dispatching the Pacers, are the Heat headed for something historic?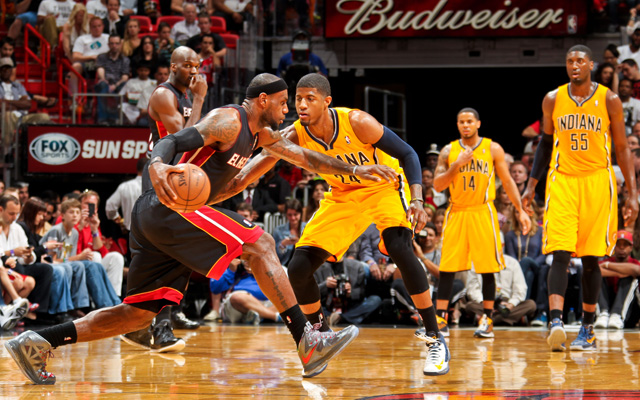 It was supposed to be the clash of the titans. Sure, Miami has run over everyone else in a 17-game winning streak, but Indiana was going to be different. They had blasted Miami twice this season, dominating them with smothering defense. This would be a test worthy of Miami. Miami wouldn't just be able to turn it on and decide when the game was through.
Whoops.
Miami 105, Indiana 91.
From the 3:00 minute mark in the second to the 3:00 minute mark in the third, the Heat outscored Indiana 33-15. Game over. Slam the door and turn off the lights.
More on Pacers-Heat
Related links
More NBA coverage
So that's 18 in a row for the Heat. They had a close call against the Magic, but even then, when the Heat decide the game is over, it's over. Where do they go from here?
I'm about to jinx them into oblivion, so let me just say first that NBA teams will drop random games, that's what makes super-long winning streaks so rare. So it wouldn't shock anyone to see the Heat fall to a random opponent as early as their next game. The Wizards have beaten the Heat, Thunder, and Nuggets this year. Weird stuff happens in 82 games.
That said?
The schedule shows promise for something special now that the Pacers have been dispatched.
Atlanta is a playoff team, but one which tends to wilt when teams like Miami exert playoff-like pressure.
Philadelphia kept it close with Miami earlier this week, but their best effort wasn't good enough.
Milwaukee is the same as Atlanta.
Toronto plays teams tough but is a nightmare down the stretch when the Heat turn into killer roborts.
Boston on March 18th is the next most likely roadblock for Miami. The Celtics took the last game, in their first game without Rondo. The game's in Boston against a team that believes. The streak could very well end there and represent the height of this emotional run Boston's on.
But if they clear that? That'll be 23 in a row. After that it's Cleveland, Detroit, Charlotte, and Orlando, before a visit to Chicago with Derrick Rose possibly being back. That makes it 28. After that, who knows?
New York and the Spurs stand between them and an all-time mark, and again, having said this, it likely guarantees that they won't have that kind of run and will lose to the Bucks or something.
But the fact that we're talking about it shows where the Heat are at, where LeBron James is at, what they're capale of.
As the Pacers found out, as long as they're in gear, you can bring whatever you want to the table. It just may not be enough.