Jason Terry responds to LeBron James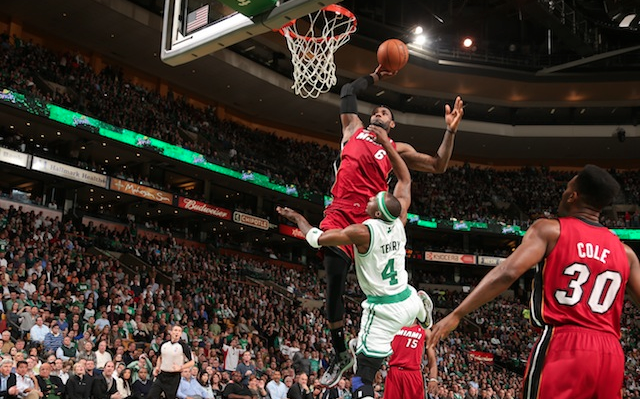 LeBron James said it made him happy he dunked on Jason Terry because of the way he runs his mouth.
Well, apparently the dunk isn't shutting Jet up. He wants another piece of the Heat and LeBron. Terry was on WEEI and sounded off on the reaction to the dunk and how he thinks Boston has a great chance against Miami.
"I've dunked on so many guys in this league, and the way social media is today, it's just unbelievable," Terry said. "I did get a kick out of the one when I was in the coffin and the pallbearers were KG and Paul Pierce. It's all in fun and it's all in the spirit of the sport."
Terry made it very clear though: He hates the Heat. He has a history against them and he is not a fan.
"It's not even LeBron personally. It's just the Heat," Terry said. "Is it the red and black? Maybe. I hate that color. I just don't like them. I don't know."
There's a history, though, between Terry and LeBron, with Terry's Mavericks topping the Heat in six games in 2011. And Terry, as he tends to do, ran his mouth a little about that.
"He picked his poison. They put him on me to shut me down in the 2011 Finals, and he couldn't get the job done," Terry said. "Hopefully he gets another chance this year in the Eastern Conference finals or wherever we match up. I'm telling you right now, I love us, I love the way we're built. We miss Rondo, we miss Sullinger, but with this team we have, we have a chance."
Which is what Terry's overall point was: He thinks the Celtics have a great chance to beat Miami.
"I'd love to see Miami in the playoffs, so we can roll through the champions," he said. "We're fired up. We'd love that matchup.
You know at some point, I don't want to say it's fixed, I think it's going to happen," Terry said. "We are going to see them, and it's going to be fireworks."