Lakers' Metta World Peace to miss at least six weeks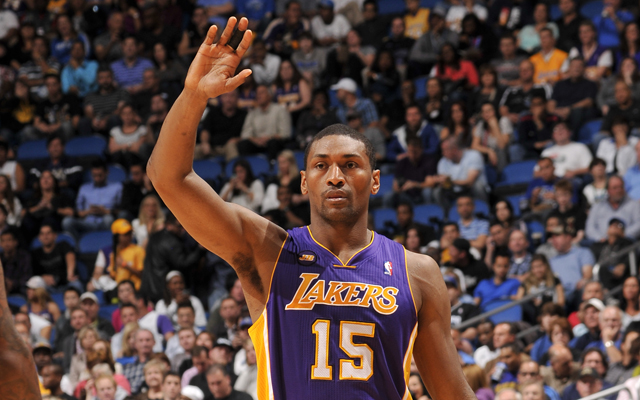 Metta World Peace will have surgery on his torn left meniscus and will miss a minimum of six weeks, the Lakers announced Wednesday.
World Peace, who injured the knee Monday against the Warriors, tweeted that he expected to only miss a week and a half after an MRI revealed a left lateral meniscus tear, but after further evaluation he will have surgery. World Peace later deleted the tweet.
The Lakers just returned Pau Gasol to the rotation but will have to scramble to replace World Peace. There's Earl Clark, who fell out of favor following an injury, and the improvement of Antawn Jamison.
Jamison, though, is battling through a wrist injury. Another option would be to start Jodie Meeks and play Kobe Bryant at small forward. Or there's Devin Ebanks, who has seen off and on time but has mostly found himself buried on Mike D'Antoni's bench.
Assuming World Peace is able to return in the six weeks, he could potentially be available for the Lakers in the postseason, though they would have to advance out of the first round. Six weeks from Wednesday is May 8, which would be around the time the second round of the playoffs would be going. So, the chances of World Peace returning this season are slim.
And it means the Lakers will have to make the playoffs without the services of their starting small forward.
Currently, the Lakers are 36-35, just one game ahead of the Mavericks and Jazz for the eighth and final playoff spot.
World Peace, 33, is averaging 12.8 points and 5.1 rebounds in 70 games this season.