Metta World Peace says he'll play Tuesday against the Hornets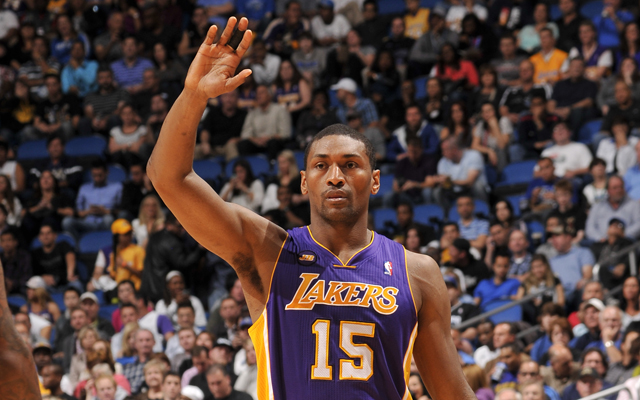 Metta World Peace had knee surgery on a torn meniscus March 28, with a timetable of recovery set for "at least six weeks."
But the Lakers forward intends to return roughly four week weeks ahead of that schedule.
Via USA Today, World Peace told reporters Monday that he plans to play Tuesday against the New Orleans Hornets. Mike D'Antoni put the chances at "90, 80 percent" of World Peace playing.
"Tomorrow morning he'll go through some more tests, and if he passes he'll play," D'Antoni said.
If World Peace indeed plays Tuesday, he'll return on Day 12 of what was supposed to be at least a 42-day recovery. That's ... unbelievable.
World Peace injured his knee March 25 against the Warriors and had surgery three days later. Without him, the Lakers have gone 4-2.
But they've dropped out of the eighth playoff spot in the West as the Jazz have taken control of their own destiny again with the Lakers sitting a half-game behind.
World Peace's rush back to the lineup just illustrates the desperation of the Lakers season. There's no time to heal fully. He understands his importance to their depth and is hustling back well ahead of schedule. It also helps that World Peace might be the toughest person in the world.
It's pretty great news for the Lakers, even if World Peace is only at 60 or 70 percent. Originally, it was thought he'd be out for the remainder of the regular season and most likely their opening round series in the playoffs, if they made it that far. Getting him back now means that they're essentially assured to have him in the playoffs. Assuming they make it, of course.
World Peace, 33, is averaging 12.8 points and 5.1 rebounds in 70 games this season.