Report: Spurs waive Stephen Jackson a week before playoffs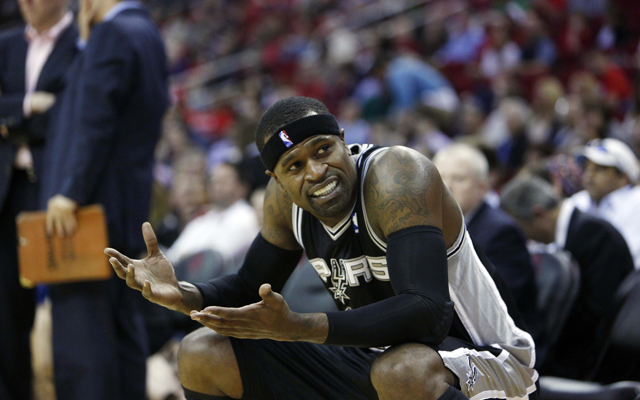 The San Antonio Spurs and forward Stephen Jackson have always been an odd pairing. Jackson has had the reputation of being a me-first player when things aren't going well, and the Spurs are all about the system and the franchise coming first before even their future Hall of Fame players. Somehow, they've actually fit together quite nicely both times the Spurs have had Jackson on their roster.
That pairing is reportedly over. Adrian Wojnarowski of Yahoo Sports is reporting that the Spurs have waived Jackson about a week before the playoffs begin over something that has been brewing for a few days.
San Antonio has waived Stephen Jackson, league source tells Y! Sports.

— Adrian Wojnarowski (@WojYahooNBA) April 12, 2013
Source on Spurs release of Stephen Jackson: "It's been brewing for a few days."

— Adrian Wojnarowski (@WojYahooNBA) April 12, 2013
This is quite a surprise, considering Jackson has been a fairly integral part of what the Spurs do since he was re-acquired in March 2012. Jackson has had arguably the worst season of his career with averages of 6.2 points on 37.3 percent from the field in just 19.5 minutes per game. But Jackson has often been used as a pest on defense and someone who isn't afraid to "give a little nasty," as coach Gregg Popovich asked of his team during last year's playoffs.
With the emergence of Danny Green and Kawhi Leonard over the last two years and the hope that Manu Ginobili will be healthy for the playoffs, perhaps any potential headaches that accompany the presence of Jackson finally outweighed the value of keeping him around on the Spurs.
Because he was waived after March 1, he is not eligible to join any team for the playoffs.