Lakers can survive without Kobe's scoring by shouldering the load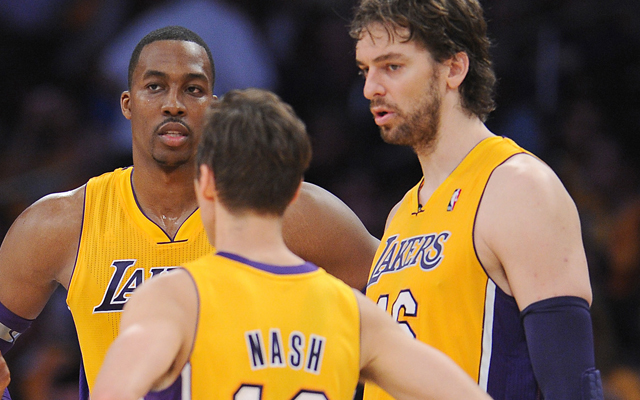 The loss of Kobe Bryant is devastating for the Lakers on many levels. It's not just that they have to find a way to make up for the 27.3 points per game that they've lost; it's that they have to find a way to replace those points with the efficiency in which they came to the offense.
You're not going to have Jodie Meeks step in and just start isolating at the top of the key or running a pick-and-roll as the primary scoring option. You're not going to put Earl Clark in the mid-post more. You're not going to run the 1-4 flat with Metta World Peace. The Lakers have to adjust, and they have to adjust in a way that fits the pieces that they have at their disposal.
In theory, Mike D'Antoni's system should be ideal for this. It's built around the idea of a playmaking point guard, a big guy who can roll to the basket and surrounding those players with perimeter offense to give the pick-and-roll space to operate. His system was never designed to support the usage of a dominant perimeter scorer, meaning Kobe never really fit all that naturally.
If the Lakers can find a way to finally run it by its design, then they might be able to do enough on the offensive end to not skip a beat. Defensively? That's an entirely different story that probably can't be solved with the current personnel. Here are the three things that the Lakers really need to focus on:
1. Dwight Howard needs to give up this need to be powerful.
When Dwight was in Orlando, he wrecked the rim and his opponents all the time by running the pick-and-roll with Jameer Nelson and company. It was a devastating aspect to Stan Van Gundy's attack while the floor was spread with shooters. D'Antoni's ideal style of offense isn't all that dissimilar; it just needs D'Antoni to demand his team runs it.
After Dwight left Orlando, he stopped going into the pick-and-roll so much and started trying to play exclusively out of the post. Whether it was trying to show Shaquille O'Neal that he's a "real big man" by dominating in the post or the consequences of playing with a battered back, Howard's affinity for trying to play in the post more has hurt his effectiveness. The problem with Dwight trying to do this is he hasn't been good posting up defenders this year.
This isn't due to a lack of any post game; he simply just hasn't been able to get deep position so that he can get off good shots. In the 2010-11 and 2011-12 seasons, Howard was efficient in the post. He scored 0.93 points per possession and 0.88 points per possession, respectively, in those seasons. This season in Los Angeles, Dwight has managed a paltry 0.73 PPP in the post and he's only making 44 percent of his attempts on post-ups.
However, in the pick-and-roll, Howard has been his old dominant self. He's scoring 1.30 points per possession as the roll man on PnRs, and he has made 79.2 percent of his field goals in the PnR. He's almost doubly as effective when rolling to the basket as he is posting up. And now he's playing with Steve Nash, the master of the PnR, instead of Nelson.
Why aren't the Lakers utilizing the most efficient way to score with Howard? D'Antoni has to start coaching his team to go to this play more, considering it's devastating.
2. Pau Gasol in the post.
Finding ways to make a hobbled Pau Gasol effective on offense won't be easy, but I think simplifying what you ask him to do when he's the scoring option is the way to go. Pau has been really good in pick-and-rolls this year, but all of that movement is liable to give him more wear and tear than his body can probably handle.
With Nash and Howard often running the pick-and-roll, even if the play isn't there, it could open up the opportunity for Pau to flash to the low block as Nash circles the ball out and gives Gasol a quick advantage. Gasol typically excels against shorter defenders, and he'll have that in the first round of the playoffs against Matt Bonner, Tiago Splitter (slightly shorter) and DeJuan Blair. Pau's length and touch around the rim will be a huge weapon if he's patient.
Gasol has scored 0.86 points per possession on post-ups this season, which is one of the better marks in the league. If Pau is effective enough in the post to draw a quick double team, he's one of the best passing big men in the league and can easily find cutters or shooters on the weak side. You don't need to increase Pau's usage rate (20.4 percent, lowest in five years) too much; you just have to reduce the physical stress and maximize his skills.
3. Steve Nash has to be a playmaker again.
Nash's role without Bryant on the floor will be the most important reason the Lakers either do or don't manage to survive offensively without Kobe's scoring prowess and production on the floor. Back in the early 2000s, Nash was begged by coach Don Nelson to shoot the ball more and look for his own scoring opportunities. It's more of a comfortable nature for Nash because he's such a natural distributor.
In the 1999-00 season, Nash's usage rate was 14.5 percent, the lowest of his career. Over the next 12 seasons, it was often above 21 percent and only below 20 percent twice. His 17.8 percent usage rate this season is by far the lowest over the past decade for him. What does this mean? It means he's not even close to being aggressive enough with his own pure shooting form.
Not only are his shot attempts and aggressiveness within the offense incredibly low, but his playmaking has fallen off while trying to fit into this Lakers team. His assist percentage is 32.7 percent, which is by far his lowest of the past 12 seasons. He has regularly been above 50 percent. Nash is often a bystander and not nearly as involved as a player of his ability should be. This has to change if the Lakers are going to even pretend to be a threat in the playoffs.
He has to probe the defense. He has to do that thing where he drives around one side of the basket, circles out to the other side of the floor and then attacks again with a mid-range jumper or a pass to a cutter. Nash has to involve himself and stop waiting for anybody else to run the offense. With Kobe gone, he doesn't have any room for latency.
This could be a tricky request/demand of Nash because his body is so banged up. But if the Lakers ever needed him to find a way to suck it up and put his pain aside while this team makes a run at being respected again, it's now -- without the fallback plan of Kobe Bryant lurking on the perimeter. Nash will have to run the pick-and-roll, make post entry passes, find cutters and kick out to shooters in the corners and on the wings. He's going to have to take it upon himself to make D'Antoni look like the old Suns coach whom many hoped he would resemble.
Are these three things doable? Absolutely. Will it make the Lakers a true threat to the San Antonio Spurs? Probably not. The defense is still a huge issue.
But if they run an efficient and potent-enough offense, can they sidestep some of those defensive issues? It's on the remaining Lakers stars to find out. Because Kobe is no longer there to save them.