Well, the Lakers made the playoffs, now what?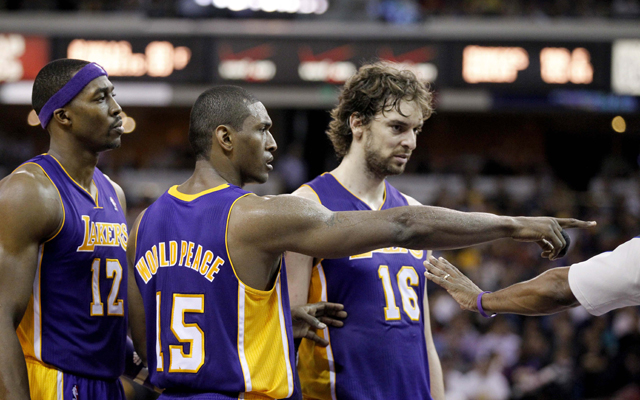 Well, well, well. Look who decided to join the party. The Lakers crawled their way into the playoffs Wednesday like an action hero who goes careening over a cliff and then crawls up on a dangling rope when the Jazz lost to the Grizzlies. After all the drama, a horrible start, a fired coach, the drama of not choosing Phil, the rocky start to the D'Antoni era, and injuries to Steve Nash, Pau Gasol, Dwight Howard, and finally a torn Achilles for Kobe Bryant, they managed to make the playoffs.
What should be the reaction here? Should we celebrate the Lakers for their toughness in the face of what was considerable adversity? Or should we recognize that so much of it, even outside of the injuries, was self-created? Should we hold them to their franchise standard of excellence, or their preseason expectation of greatness?
The Lakers this year have been mystifying and nearly impossible to decipher. When they lost all of their preseason games, we joked that they could struggle this year. When they lost their season opener, we scratched our head. When they fell apart soon after, we shifted uncomfortably and said it was probably a blip.
Then the slide continued. And continued. Mike Brown was fired, the drama unfolded around Phil Jackson and Mike D'Antoni was hired. The struggles continued. Pau Gasol went down. The team ranged from "average" at best to "pathetic" at worst and everything in between. But slowly, they improved.
The Lakers struggled, even in their late-season surge, to beat good teams. They dominated a decimated Celtics team. They toppled a Pacers team that was prone to bad games. They defeated the Grizzlies in a tight struggle, and handled the Warriors and the wounded Spurs. But there were blowout losses to Denver, to the Clippers, and a game against the Heat where they were outclassed. They needed comebacks against the Raptors and Hornets.
And then after everything, just when things looked better, Kobe Bryant was lost for the season.
So now what?
Can the Lakers make a run? In this disaster of a traveshamockery of a year? Can they overcome everything, even the loss of THE Kobe Bryant and push for the second round? Beyond?
The answer is the same as it was in the preseason. On paper, absolutely. In actuality, it gets much tougher.
Even without Bryant, this is a team with Dwight Howard and Pau Gasol, with Steve Nash likely to return for Game 1. That in and of itself is a great team on paper. Dwight Howard has been playing with more energy and efficiency. Gasol's looked better playing inside (though he has been facing up quite a bit).
But they still don't have a perimeter creator unless Nash is able to not only return to the floor but return as an impact player. They need someone to create his own shot and open looks for others. Steve Blake can do some of that, but he's not Nash.
The Lakers' chances rest on Nash and Howard, no matter the opponent. And that's the problem. They need so much from two guys with huge injuries still hampering them. They have no role players who can step up and be consistent playoff performers you can count on. There's no threat of other guys breaking loose,. You're just hoping they randomly do. Without that, the Lakers are sunk.
So it falls back to the stars. But the Lakers were ineffectual and largely irrelevant with one of the greatest scorers in the NBA on the floor. Can they really make a run, have enough, bring enough to compete without him?
Maybe the only good news is that this season, just when we think we've figured them out, the Lakers have surprised us, for better or worse.