Bulls' Joakim Noah has setback, questionable for Game 1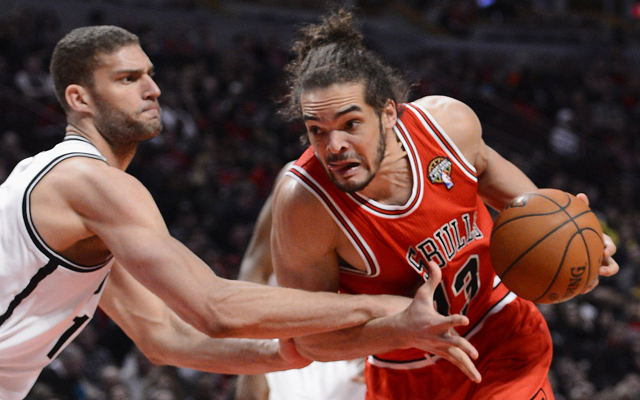 The Bulls have been able to survive the season without Derrick Rose. But there's no way they survive the postseason without Joakim Noah.
And that's the prospect they could be facing.
Via the Chicago Tribune, Noah said he had a recent setback with the plantar fasciitis in his right foot and could be doubtful, or at least extremely limited, for Game 1 Saturday against the Nets.
"It's really disappointing for me," Noah told reporters Friday. "You work really hard in the summer and the season to be ready for situations like this, and just to be hurt is really disappointing. It is what it is. We fought hard to get here, and we're a very capable team. It's going to be an exciting series against Brooklyn."
Noah didn't practice Saturday and has played sparingly the final couple weeks of the regular season. He missed 15 games this season with the nagging foot injury.
"It just flares up on me," Noah said, via the Tribune. "Even in the limited time I had in the last two games, it wasn't pretty. It's painful and I'm just trying to find solutions. It's tough, but at the end of the day it's not about one player. I'm really proud of this team. I think we put ourselves in a pretty good situation right now, and I think we're a very capable group regardless. But I definitely want to be there and help as much as I can.
"I mean I've got a tear in my foot, I've got a tear in my foot. It is what it is. I'm upset at myself because I let this linger for a long time and I have no one to blame but myself. I just wish I was a little bit smarter. I played games in the regular season that I probably shouldn't have played, and it's going to be tough, but these are the cards I was dealt.''
The Bulls went 2-1 against the Nets this season, and possibly not coincidentally, the loss came in one of those 15 games Noah missed (a win came without Noah, too, though). Brooklyn of course has an elite offensive 7-foot center in Brook Lopez and without Noah, a legit contender for Defensive Player of the Year, the Bulls struggled to seal off the middle.
In the 93-89 loss on Feb. 1, Lopez was Brooklyn's high scorer with 20 points on 9 of 16 shooting. In Chicago's 92-90 win on April 4, Noah sat and Lopez scored 28 on 10 of 19 shooting. In the Bulls' 96-85 win on March 2, Lopez scored 22 on 9 of 16, but Noah poured in 21 on 10 of 13 himself, along with 10 rebounds and five assists.
Point is, the Bulls need Noah. But not one that's going to struggle up and down the floor for 25 minutes. They need the high energy freak that brings it for 44 minutes. Otherwise, their postseason might be over quickly.