NBA Playoff Machine: Mon., April 22
We tip off the third day of the first round of the 2013 NBA playoffs with our Playoff Machine. Here you'll find updating images, analysis, reactions, video, and more from the action Monday. This post will update regularly with news, analysis and hilarity, so keep coming back, campers.
Nets lead 1-0 | Game 2 Preview | Harper: Everybody OK with Rose watching Noah play hurt?
Clippers lead 1-0 | Game 2 Preview | Harper: Grizzlies need more from Zach Randolph
(2:50 a.m.)
It helps having a Point God on your side.
(11:55 p.m.)
Half-time Update: The Grizzlies played about ten times better than they did in Game 1 and they still trail. The Clippers are just carving them up in the halfcourt and then getting offensive rebounds when they miss.
Jamal Crawford has been amazing, see below, and DeAndre Jordan has left his mark with blocks and good play on both ends. The Clippers are passing better, running better, shooting better and the Grizzlies' bench is hot garbage. This should probably be a larger lead than it is.
Looking very much like a 2-0 Clippers lead headed to Tennessee.
(11:43 p.m.)
No, seriously, Jamal Crawford...
(11:29 p.m.)
So, Jamal Crawford...
(11:11 p.m.)
The Clippers are in more of a grind in this game than in Game 1, but they're still making plays happen. First DeAndre Jordan with a dunk on Zach Randolph and his own teammate, then Blake Griffin with a crazy athletic Lob City and-one.
(10:43 p.m. ET)
Bulls 90, Nets 82. The Bulls knotted the series up 1-1 behind an incredible defensive effort, led primarily from the inspiring play of Joakim Noah. Playing through pain in his right foot, Noah went 25 minutes and produced a double-double with 11 points and 10 rebounds.
Unlike Game 1, the Nets couldn't find any kind of offensive flow as Deron Williams slogged through a horrible 1-9 shooting game for only eight points. Joe Johnson went 6-17 from the floor, Gerald Wallace 1-7. Outside of Brook Lopez (21 points on 7-14), the Nets were just horrific on the offensive end.
The series now shifts to Chicago with the Bulls owning the homecourt advantage. Considering where feelings were following Brooklyn's Game 1 beatdown, this thing has completely swung around.
(10:34 p.m. ET)
Up eight with a minute left, the Nets had a chance to cut the lead to two possessions. But Joakim Noah, playing in obvious pain with nagging plantar fasciitis, came up with an outrageous block on Brook Lopez to preserve two points and essentially seal the game for the Bulls.
And then he promptly flipped the crap out. Naturally.
(10:04 p.m. ET)
The Nets shot 10.5 percent in the third quarter. This is what it looks like in shot chart form.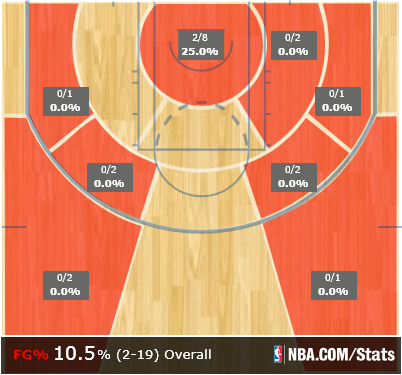 That's right. Two-of-nineteen. Oof.
(9:53 p.m. ET)
You guys will never believe this, but Nate Robinson is excited about something.
What, you ask? A Jimmy Butler dunk that gave the Bulls their biggest lead of the game.
(9:36 p.m. ET)
C.J. Watson's halftime buzzer-beater. Kudos for the walk-off-before-it-actually-drops-through move.
(9:25 p.m. ET)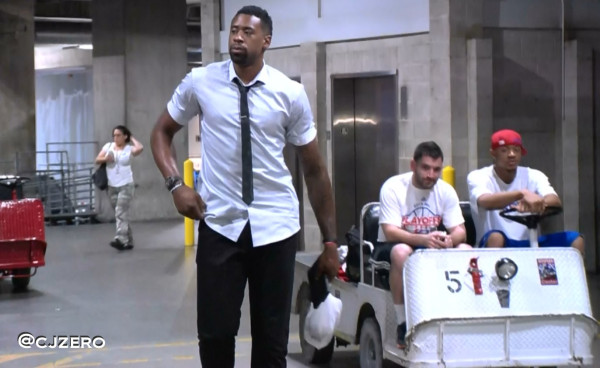 DeAndre Jordan's pregame look. Is he dressed as Michael Douglas in "Falling Down," a Mormon missionary, or a '50s greaser? You decide. (via @cjzero)
(9:15 p.m. ET)
Halftime update: The Bulls played a much, much, much, MUCH better half of basketball tonight than they did in Game 1. Instead of being down 22, they're up one on the Nets. But really, they have to feel a little anxious about it because the Nets didn't seem to even play all that well.
Brook Lopez got it going in the second quarter with some long 2s, and C.J. Watson closed the halftime on a buzzer-beating 3 to cut it to 47-46.
What's the difference tonight for Chicago? Two things: 1) The Bulls are creating transition opportunities and 2) they are defending the paint much better.
But here's the concern for the Bulls: Deron Williams has only two points on 0-3 shooting at the half (eight assists, though). And they're only down one.
(8:42 p.m. ET)
The Nets started Game 2 rather sluggishly but found a spark late the first quarter, started by an emphatic dunk from Brook Lopez, and then a transition 3 from Joe Johnson.
(6:49 p.m. ET)
Joakim Noah will play tonight, per Tom Thibodeau, but is limited to 20-25 minutes, which doesn't sound good at all.
(6:10 p.m. ET)
Still waiting on word from Bulls coach Tom Thibodeau on the status of Joakim Noah and Kirk Hinrich. Though Thibodeau did say on Sunday he expected both to be ready to play.
(6:07 p.m. ET)
Ref assignments: Monty McCutchen, Bill Spooner, Gary Zielinksi -- Kane Fitzgerald (alternate)
(6:07 p.m. ET)
Ref assignments: Mike Callahan, David Guthrie, Tom Washington -- Brian Forte (alternate)