NBA Playoff Machine: Tues., April 23

We tip off the fourth day of the first round of the 2013 NBA playoffs with our Playoff Machine. Here you'll find updating images, analysis, reactions, video, and more from the action Tuesday. This post will update regularly with news, analysis and hilarity, so keep coming back, campers.
Heat lead 1-0 | Game 2 Preview | Moore: LeBron James announces his playoff intentions
Knicks lead 1-0 | Game 2 Preview | Harper: Melo calmed down his offense to secure the win
Nuggets lead 1-0 | Game 2 Preview | Moore: Karl reflects on life, playing fast, the Warriors
(1:11 p.m. ET)
The Warriors even the series 1-1 against the Nuggets with a 131-117 win. Stephen Curry led the way with 30 points and 13 assists.
Want a recap of what happened? This happened: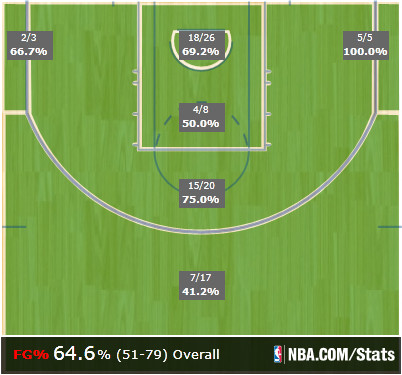 The 64.5 percent and 56 percent from 3 is the highest shooting percentage EVER in the postseason.
(12:50 p.m. ET)
Harrison Barnes reverse dunk? OKAY.
(12:35 p.m. ET)
Stephen Curry, who has been throwing fire, had his old demon come back to bite him in the third quarter. After scoring 10 points in the quarter, Curry rolled over on his left ankle and immediately had to exit the game.
(11:40 p.m. ET)
Halftime update: The Warriors lead 61-53 at the half over the Nuggets. And it came mostly because Stephen Curry started doing that thing where he makes all of the shots.
Curry has 17 at the half and really got going in the second quarter, hitting a flurry of jumpers. The Warriors shot 61 percent in the first half as the Nuggets failed to do much of anything to stop them.
Kenneth Faried is playing, but definitely doesn't appear to be all that effective, as his ankle injury clearly is affecting him. He doesn' have that same kind of explosive energy and in 12 minutes didn't record a point or rebound. That should tell you something.
The Warriors can win this game, but they're going to have to weather some Denver runs. Because they're coming. The Warriors will need some big shots to cut momentum and as long as Curry is hitting, he might be the only answer they need.
(11:23 p.m. ET)
Knicks go up 2-0 over the Celtics, 87-71:
How bad has it been for the Celtics in each second half of this series? They have 48 total points (25 in the first game, 23 Tuesday night) in the 48 seconds half minutes so far. The Celtics have made 14 of their 63 (22.2 percent) second half shots. In this same stretch, Carmelo Anthony has made 15 of his 27 (55.5 percent) shots. The Celtics have barely outscored Anthony with a 48-36 margin.

Is there any way to pinpoint what's going wrong for the Celtics? Are the Knicks making adjustments at the half? Sure, they are. Their defense has become much more active, they seem to get more deflections, and they aren't allowing anything in the paint. The Celtics don't seem to be willing or capable of fighting and executing for better shots.
-- Knicks-Celtics: Boston wilts after halftime for the second straight game by Zach Harper
(10:18 p.m. ET)
So, the third quarter... it was very good for New York. Not so much for the Celtics.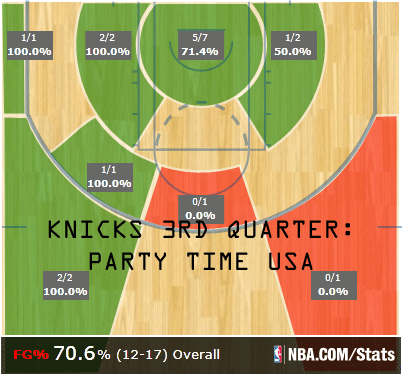 (9:57 p.m. ET)
I think Diddy wants Carmelo Anthony to score on Paul Pierce. Or perhaps he's trying to find out if Carmelo ended up with Mo' Problems when he got Mo' Money. I wonder if Coach Diddy is interested in the Charlotte Bobcats' job.
(H/T - @netw3rk)
(9:28 p.m. ET)
Halftime update: In Game 1 between these two teams, the Celtics enjoyed a four-point lead at halftime before they completely collapsed in the second half. Part of that collapse was the fact that three bench players combined to score just four points in the entire game. Tonight, the Celtics are taking a six-point lead into the half and already have 14 points by their bench players. Most of that reserve production comes from Jason Terry, who made three straight 3-pointers over a six-minute stretch.
The Knicks haven't been able to get Carmelo Anthony going from the field (3 of 11), but he has made his way to the free throw line (8 of 9) to tally 15 points. Other than Melo's points and J.R. Smith's 13 points off the bench, the rest of the team has struggled to get involved. More important, they have to stop the Celtics from knocking down jumpers. In the second half of last game, they held Boston to just seven made shots while turning the ball over 11 times. The Knicks will need a big defensive effort again to take care of their home court.
(9:13 p.m. ET)
Look how Wade times up this putback. He's making his run in from well behind the 3-point line before Chalmers releases the shot. And kudos to Wade for attacking the boards. Chalmers had a wide open look but Wade didn't take it for granted. He crashed, and was able to come up with a wild putback.
(9:00 p.m. ET)
J.R. Smith hit a 35-foot 3-point shot at the end of the first quarter to give the Knicks a 26-20 lead. And while the shot was cool, Smith's celebration of the shot was even better. I'm not sure if it's an unorthodox bowling motion to pick up a 7-10 split or if he's trying out for a fast pitch softball league. Regardless, it's a lot of fun.
(H/T - SB Nation)
(8:40 p.m. ET)
Halftime update: Considering, that was a great half for the Bucks. They're in the game, down 47-43, and have actually made clear adjustments to frustrate the Heat. Luc Richard Mbah a Moute is doing a very good job on LeBron (he's still 5-6 from the floor, though) and Milwaukee's bigs are contesting at the rim.
The biggest change is the effectiveness of Ersan Ilyasova, who has 14 at the half. Ilyasova is a bit of an equalizer for the Bucks because of his ability to stretch the floor. The Bucks can play small and match up with the Heat.
Miami is a threat to rip off a 10-0 run and put this thing away at any moment, but considering how Game 1 went, a pretty good showing by Milwaukee.
(8:25 p.m. ET)
When Chris Andersen does his thing, people call him the Birdman on the court and he flaps his arms in a very dramatic motion to celebrate his dunks and blocks. Birdman has at least one fan of his in Miami, who is more than willing to flap his arms in unison with Andersen.
(6:50 p.m. ET)
Ref assignments: Scott Foster, John Goble, Bill Kennedy, and Mark Ayotte (alternate)
(6:50 p.m. ET)
Ref assignments: Derrick Stafford, David Jones, Rodney Mott, and Josh Tiven (alternate)
(6:50 p.m. ET)
Ref assignments: Tony Brothers, Ron Garretson, Zach Zarba, and Bennie Adams (alternate)
(6:45 p.m. ET)
Mike Woodson says @pprigioni9 will not have a minutes restriction and will start. #Knicks

— NBA New York Knicks (@nyknicks) April 23, 2013