NBA Playoff Machine: Thurs. April 25

We tip off the fifth day of the first round of the 2013 NBA playoffs with our Playoff Machine. Here you'll find updating images, analysis, reactions, video and more from the action on Thursday. This post will update regularly with news, analysis and hilarity, so keep coming back, campers.
Heat lead 2-0 | Game 3 Preview | Harper: Brandon Jennings still has the Bucks in six
Nets and Bulls tied 1-1 | Game 3 Preview | Harper: Which Deron Williams will Chicago let through the door?
Clippers lead 2-0 | Game 3 Preview | Moore: Are the Grizzlies fighting for their own soul?
Post-Game Update: Maybe the Point God is mortal after all. The Grizzlies dug low on Chris Paul and attacked his dribble, forcing him into more turnovers than assists. Memphis got the ground and pound going with Zach Randolph, Quincy Pondexter stepped up, and the Grizzlies pulled the series into 2-1. This thing's not over yet.
(Update 12:30 p.m.)
Zbo and Barnes are friendly:
(Update: 12:25 p.m.)
The Memphis crowd? Not a huge fan of the Clippers' antics:
(11:03 p.m. ET)
The Bulls survived only making one basket over the final seven minutes of the game to hang on for a 79-76 Game 3 victory, going up 2-1 over the Nets.
(8:49 p.m. ET)
Post-game update: The Heat blew out the Bucks in the second half because they're the Heat and the Bucks are the Bucks. The Heat lead 3-0. That's all we've got.
Ray Allen set the record for 3-pointers in the playoffs.
Halftime Update: Here's what you need to know about the first half for the Nets: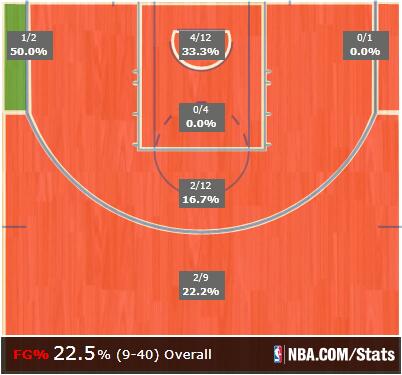 The amazing part is they were up 17-4 at one point in the first half. Then the offense curled into a ball and died. Bulls lead mostly off of defense, good play from Boozer, and stuff like this:
Nasty.
Also, Carlos Boozer did this, which was just weird, and yet very Boozer-y.
(8:26 p.m. ET)
Joe Johnson (plantar fasciitis) is going to play tonight, but might be on a minutes restriction.
(8:22 p.m. ET)
Halftime Update: The Bucks played exceptionally well, the Heat couldn't hit anything outside of LeBron James. Ersan Ilyasova is playing great, the Bucks got J.J. Redick going.
The Bucks are up two. You get the feeling that Miami's hanging back and just waiting for the right time to land the punch. But if Milwaukee can keep hitting threes and crashing the boards, they have a shot to steal a game at home here.
(8:18 p.m. ET)
You know, sometimes, Chris Bosh has got some monster in him.
(7:42 p.m. ET)
A great first quarter for the Bucks but this one... juuuuuust a bit outside.
(7:15 PM ET)
Referee assignments: Scott Foster, Bill Kennedy, Scott Wall and Josh Tiven (alternate)
(7:15 PM ET)
Referee assignments: Joe Crawford, James Capers, Sean Corbin and Derrick Collins (alternate)
(7:15 PM ET)
Referee assignements: Ron Garretson, Tony Brothers, Eric Lewis and Zach Zarba (alternate)