Warriors-Nuggets Game 3 Preview: Can the Warriors stay hot?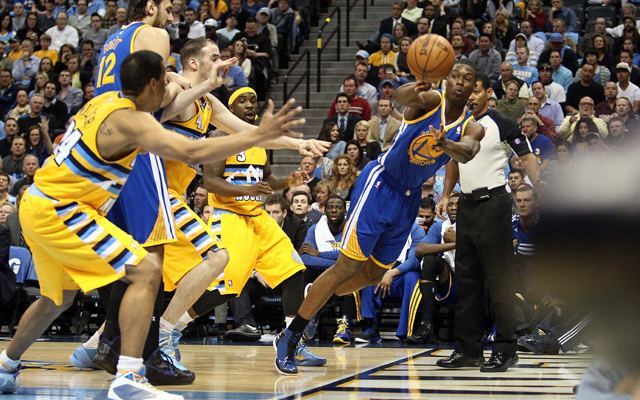 Previewing Game 3 of the Nuggets-Warriors first-round series.
1. Where We Are: After stealing a game in Denver, the Golden State Warriors have evened up the series 1-1 with the Denver Nuggets. We have seen a couple of interesting dynamics. In the first game, we saw both teams play pretty poorly and wondered aloud, "If Denver/Golden State plays to their capabilities, they can take the next game." In Game 2, we saw the Warriors play to the peak of their abilities with their historic shooting and incredible scoring. We wondered if the Nuggets could hang with them because of the breakdowns that occurred. Now it seems to be Denver's turn. If they get to play the type of game that they destroyed teams with in the regular season, can they take back home-court advantage in Game 3?
2. The Big Number: 64.6 percent. The Warriors shot 64.6 percent from the field last game! It is in no way sustainable, and it probably won't be approachable, either. But the fact that they made nearly two-thirds of their shots is just insane. Even if that percentage drops 10 percent in Game 3, wouldn't that have to terrify the Nuggets and their defensive schemes? They had a lot of problems staying out or switching out on shooters, and the Warriors took advantage. But how much of that was luck? How much of that was the Warriors showing off their skills? Was any of that performance real?
3. Key Adjustment: Get through/around the screens. This is the big thing that Denver has to game plan for and execute to take back home-court advantage. With the elevator play the Warriors love to use, Denver's plan going into the series was to have the big men bump the shooter and jump out to take away passing lanes. They haven't really done that so far. And they're doing an awful job of helping delay the pass to shooters curling toward the 3-point line before the wing defender can keep up from going around those screens.
4. The Big Story: Whose young players like the big stage more? Harrison Barnes had a breakout game during Game 2 in Denver, and it was punctuated emphatically with his reverse dunk over Anthony Randolph. Draymond Green has even given the Warriors a few nice moments here and there. The Nuggets need Evan Fournier to provide good but limited minutes. They also need Kenneth Faried to be healthy enough to unleash the Manimal within the confines of Oracle Arena to help the Nuggets excel at pushing the ball and causing chaos. So which young players are more likely to step up in the spotlight?
5. The Facts: 10:30 p.m. ET start time. David Lee is out with a torn hip flexor. Stephen Curry is probable with an ankle injury.