Flip Saunders in as Timberwolves president, David Kahn out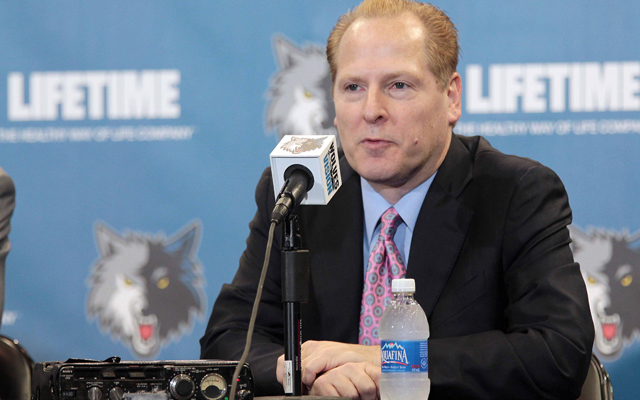 The proverbial guillotine has been dangling over David Kahn's position with the Minnesota Timberwolves for a while -- probably since he took Jonny Flynn with the sixth pick of the 2009 NBA Draft. That was just after he took Ricky Rubio with the fifth pick of the 2009 NBA Draft. Since that night (which was a month after he was hired as president of basketball operations), Kahn has been on a rollercoaster of personnel moves that have left the franchise rebuilding in a confusing way and alienating their best player.
The team is apparently ready to move on from the Kahn era, announcing Thursday that Kahn's team option for next season will not be picked up.
The Minnesota Timberwolves today announced that the team has declined to exercise the one-year option in David Kahn's contract for the 2013-14 NBA season, and as a result, he will not return as President of Basketball Operations. Kahn was originally hired by the Timberwolves on May 22, 2009.

"We want to thank David for all of his efforts the past four years with our basketball team," said Timberwolves owner Glen Taylor. "These are always difficult decisions, but at this time, we believe it is in the best interest of our organization to make a change. We wish David all the best in the future."
Ken Berger of CBSSports.com has confirmed that the move is a precursor to the team finalizing a deal to bring in Flip Saunders as the president of basketball operations to replace Kahn.
With Kahn out, details on an agreement making Flip Saunders the team president are being finalized, league source says.

— Ken Berger (@KBergCBS) May 2, 2013
This was reported earlier Thursday by Jon Krawczynski of the Associated Press.
Just to go over a few of the things Kahn has done throughout his career: He drafted Flynn (as stated above) after drafting someone at the exact same position in the same draft; he gave Darko Milicic a four-year, $20 million contract even though he wasn't any good; he said on TV to Chris Webber that Darko's skills were similar to Vlade Divac's; and he reportedly brought to the workout room a contract extension he knew Kevin Love was unhappy with and handed it to Love. And that's just to name a few things.
Saunders was the coach in Minnesota from 1995 until 2005 when Kevin McHale went from the front office to the sideline to handle the rest of the 2004-05 season. During Saunders' tenure, the Wolves enjoyed their only successful moments as a franchise by reaching the playoffs eight straight years and making it to the Western Conference Finals in 2004.
The team will now wait to find out if Rick Adelman will be back next season to coach or if he'll step down from the position to be with his wife, who suffered through some medical issues during last season.