NBA Playoff Machine Sun., May 5

We tip off the 16th day of the second round of the 2013 NBA playoffs with our Playoff Machine. Here you'll find updating images, analysis, reactions, video and more from the action on Sunday. This post will update regularly with news, analysis and hilarity, so keep coming back, campers.
Knicks-Pacers | Series Preview
Thunder-Grizzlies | Series Preview

(5:04 p.m.)
Halftime update: The Knicks' defense apparently thinks it's still playing the Celtics. Indiana shot 51 percent int he first-half, a super-high number for them. Especially from the perimeter. Look at their struggles inside.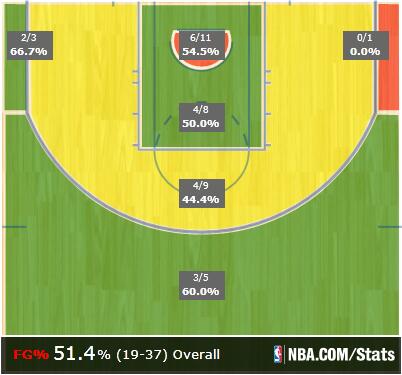 And here's the Knicks: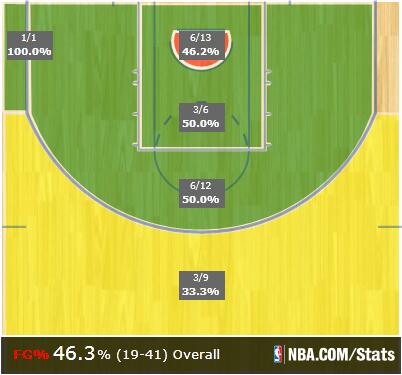 (4:55 p.m. ET)
After Paul George knocked down a corner 3-pointer to put the Indiana Pacers up 52-46, J.R. Smith knocked down a halfcourt shot just after the buzzer. It would have cut the deficit in half for the Knicks, but he couldn't get it off in time.
I'm with you, Jeff Van Gundy. Give him 1.5 points for that.

(4:10 p.m. ET)
Thunder-Grizzlies final -- It must be nice to have Kevin Durant at your disposal. After Mike Conley lost the ball on an attempt that could have put the Grizzlies up three with fewer than 20 seconds left in the game, Kevin Durant took the ball back up the floor, hit Tayshaun Prince with a stutter-step move, and knocked down the eventual game-winner from 20 feet.
This is what we can expect from both of these teams. There was a lot of defense in this game from two teams that finished second (Memphis) and fourth (Oklahoma City) in defensive rating this season. As the two teams felt each other out early, neither team could make a shot. They combined for just 30 points in the first quarter and then broke out for 63 combined points in the second quarter.
Durant's 35 points, 15 rebounds, and six assists showed just how much the Thunder need him in this next round. We get used to these kind of performances from legendary players like Durant, but his line was ridiculous. The Thunder needed every bit of his production too. Kevin Martin chipped in with 25 points off the bench, which helped offset a 1 of 10 shooting performance by Serge Ibaka. But Ibaka did help keep the Grizzlies out of the paint (32 points) with his work on Zach Randolph and help against Marc Gasol (he had a key block on a layup in the fourth quarter). Now the Thunder are up 1-0 in the series.

(3:27 p.m.)
Look out below!

(2:17 p.m.)
Halftime Update: Starting this game less than 36 hours after the conclusion of their respective series Friday night was asinine of the NBA. Both teams were incredibly sluggish, with Memphis going for jump shots when it's flat-footed and can't hit them in the first place, and the Thunder being unable to hit much of anything before Kevin Durant and Kevin Martin warmed up in the second quarter.
Memphis has gotten good production and even distribution, but the Tony-Allen-on-Kevin-Martin matchup is working out as badly as some analysts thought it might. Allen is slow and off in his rotations and is getting caught ball-watching. Serge Ibaka has been awful, but the rest of the Thunder have played well, especially Reggie Jackson. Mike Conley has been invisible, but the rest of the Grizzlies have stepped up.
Looks like a good series early, which of course means nothing.

(2:11 p.m.)
Lionel Hollins to Bill Kennedy on that rip move: "Where do want him to put his hands?! In his ass?"

— Royce Young (@dailythunder) May 5, 2013

(1:39 p.m.)

(1:31 p.m.)
Teams combine to shoot 12-46 in the first quarter. Durant scored 10 of OKC's 14 points.

— Royce Young (@dailythunder) May 5, 2013

(1:13 p.m.)
The Thunder did not score a point in the first four minutes. Both teams missed their first seven. So, no, NBA, the 12 p.m. local start less than 36 hours after the end of the last game was not a great idea.

Your Knicks-Pacers officials: Danny Crawford, Marc Davis, Michael Smith

Your Thunder-Grizzlies officials: Scott Foster, John Goble, Bill Kennedy