Lakers' Pau Gasol undergoes knee procedure, out 12 weeks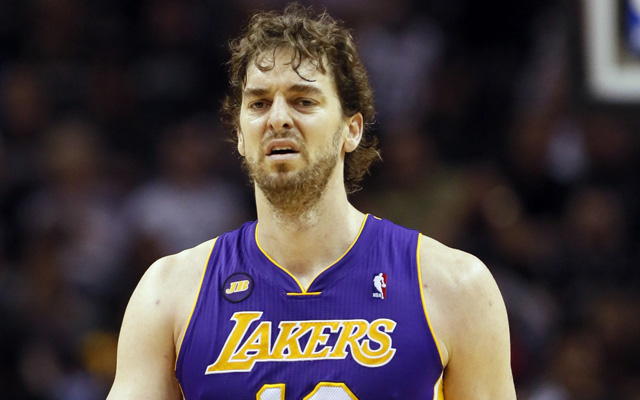 Lakers F/C Pau Gasol underwent something called a FAST procedure on his knees Wednesday and will be out 12 weeks. What is a FAST procedure? Glad you asked! From the Lakers:
During the procedure, which was performed by Dr. Steve Yoon of the Kerlan-Jobe Orthopaedic Group, a probe was inserted into Gasol's knees, which directed ultrasound wavelengths to debride degenerated tissue of Gasol's patellar tendons non-surgically. Gasol will also receive autologous stem cell injections, which will stimulate regeneration of his tissue. The injections will be administered next week at Kerlan-Jobe by Dr. Yoon.
Gasol struggled with a slew of injuries this season, including a torn plantar fascia, a concussion and tendinosis in his knees. He basically was the walking wounded for most of the year.
When Gasol returned, he was productive, though, and finally worked well alongside Dwight Howard. But at that point, Kobe Bryant went down with a torn Achilles because the Lakers were doomed this season.
It's not like at Gasol's age he'll go through a grueling offseason workout, especially not this early, so it's better to have the procedure done sooner. The procedure is considered much less severe than the debridement Amar'e Stoudemire had done twice this season.