Thibodeau says LeBron James flopped on Nazr Mohammed shove
To no one's surprise, Tom Thibodeau took the "complain about officiating and the way the other team is playing" baton from Joakim Noah and Taj Gibson after Chicago's Game 3 loss Friday night to the Heat. From CBSSports.com's Ken Berger:
Referee Joey Crawford whistled James for a technical foul, something Mohammed said he didn't know when he got up and pushed James to the floor. Mohammed caught James in the chest as the MVP was looking around and protesting his tech and saying, "Me?" Whether Mohammed was strong enough to send James sprawling 10 feet across the court, well, Thibodeau left nothing to the imagination.

"From my angle," Thibodeau said, "I just saw a guy flop."

Frankly, the most amazing part of the play was that James was able to think on his feet fast enough to make sure he landed on his derriere and slid across the floor as far as he did. Nate Robinson said it was like James' TV commercials: "A lot of good acting."
via Bulls try to get tough, but it won't fly when Heat can stay above fray - NBA - CBSSports.com News, Scores, Stats, Fantasy Advice.
Thibs is absolutely 100 percent in on the idea that the Bulls are getting screwed in the calls department and that the Heat are flopping. From Yahoo Sports:
We're well aware of what's going on," Thibodeau seethed late Friday. "I'm watching how things are going. I watch very closely. What I'm seeing is…

"…We'll adjust accordingly."

...

"We're not going to get calls," Thibodeau grumbled. "That's reality."
via Bulls mock LeBron James for flopping, find fuel in Game 3 conspiracy - Yahoo! Sports.
So about the flop. Let's take a look at this thing in slow motion.
So James looks at Crawford, then to the sideline, and then, when he turns back to Crawford, he sees Mohammed out of the corner of his eye shoving him. Now he takes a step back and has gone to a pretty bad angle. Look.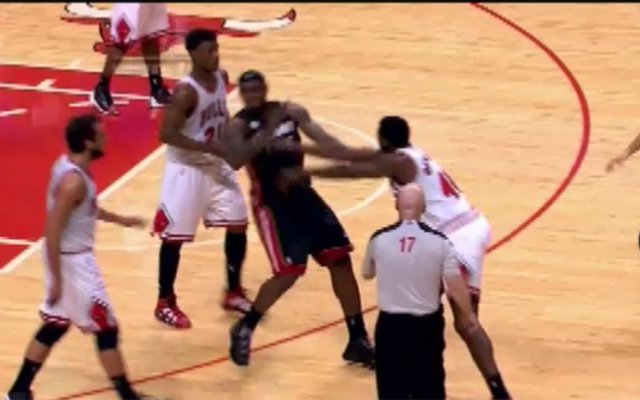 That's before his right foot lands. So the idea is that James in that split second could anticipate that Mohammed was going to shove him, a pretty random event, or react to it as it's happening, and as his second foot lands, decides to throw himself backwards.
Now watch his right arm motion, because that's what would determine if he was shoving himself backwards or not. He lands, smacks the floor and his arm comes up, but it doesn't push him back any.
After James lands, he stays there, looking at Mohammed. He doesn't get back up into the play, but he also doesn't act hurt. In that situation, the flop protocol tells you to lay back, act like you've had the breath knocked out of you. You sell it. Again, James has done this in the past. Rajon Rondo is a master at this, as is Manu Ginobili. But instead James sits up, then looks at Mohammed while Ray Allen helps him up.
So now here's the theory that Thibs is trying to sell:
James, out of the corner of his eye, saw Mohammed shoving him, and after the contact from an NBA center, after his second foot lands, then decides to launch himself backwards and does so without using extra motion from his arm to push him. Then, instead of acting like the shove had any impact on him, he sits up.
Do I think that James willingly went down on the shove? Yes, because he's losing his balance, and pretty much anyone in that situation enough knows you don't try to fight the fall; you go into it. But I wouldn't call this a flop. Believe me, we've all seen James flop before. But in this instance, I don't think he did.
One thing's for sure, though. We haven't heard the last of the physical play in this series nor of the complaining about calls from either side.