Kevin Durant is great but not quite great enough for this challenge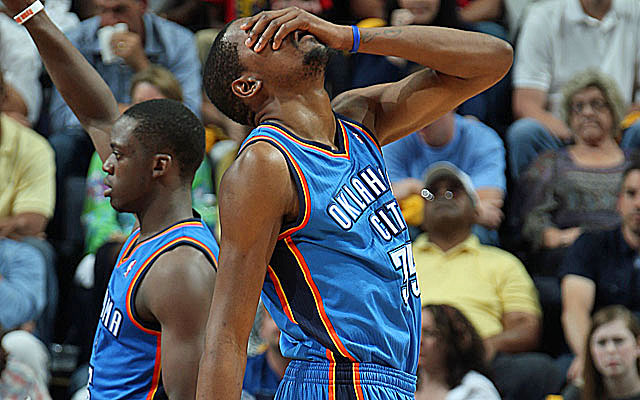 MEMPHIS, Tenn. -- It was fitting, in a way, that Kevin Durant found himself all alone at the free-throw line in the final minute with a chance to make this a one-possession game because, in a lot of ways, he's spent the past 17 days all alone in general ... or at least without his top sidekick/fellow All-Star.
And it's showing.
On his face.
In his game.
Even if his words still suggest otherwise.
"We can't hang our heads," Durant said. "We have to embrace the challenge."
I suppose that's all Durant can say right now considering he's Oklahoma City's leader and leading scorer. But it's obvious after Saturday's 87-81 loss here at FedExForum, that the Thunder are likely to lose their second-round series against the Grizzlies despite winning 60 games in the regular season and earning the Western Conference's top seed. Oklahoma City is down 2-1 and without homecourt advantage. According to oddsmakers, the Thunder should go down 3-1 late Monday. And isn't it suddenly easier to understand why LeBron James had to leave Cleveland to chase his title dreams?
The lesson here is simple.
You can be great, even otherwordly great, but it's hard to accomplish much in this league without a legitimate second option. Even Michael Jordan had Scottie Pippen, remember. And Shaquille O'Neal never got a ring without Kobe Bryant or Dwyane Wade. And Bryant has never won one without O'Neal or Pau Gasol. And James couldn't get one with Antwawn Jamison serving as his team's second scoring option in Cleveland in 2010, which is why he left for Miami and teamed with Wade (and Chris Bosh), so that he could raise a banner in 2012 and, probably, another in 2013.
This is the NBA.
It's a league billed as a "star's league."
But that's not a completely accurate description.
It's a league marketed around stars with championships usually won by stars. But not just one star. It (typically) takes two, baby. (Special shoutout to Marvin Gaye!) And if Durant didn't know that before, he's learning it now while Russell Westbrook recovers from a knee injury suffered in Game 2 of OKC's first-round series against the Rockets.
"We can't stop Kevin Durant," said Grizz coach Lionel Hollins. "He's a great player. But he played 45/46 minutes, and he has to carry a huge load for them. And, as the game wears on, other people for them have to start taking the load away from him a little bit."
Which is all true, worth noting and unfortunate for Oklahoma City.
Durant took seven shots in the third quarter but only attempted four in the fourth (despite playing all 12 minutes), and he missed three of those four. Still, the three-time NBA scoring champion found himself at the free-throw line with 39.3 seconds left and a chance to cut the Grizzlies' 85-81 lead to a single possession. But he missed both attempts to the delight of a sellout crowd of 18,119 that featured rappers Lil Wayne, Yo Gotti and Shinedown guitarist Zach Myers sitting courtside, and it's hard not to, on some level, attribute the misses to fatigue considering Durant is a 90-percent free-throw shooter.
"We tried making things harder for Kevin Durant," said Grizz forward Quincy Pondexter, and it's reasonable to conclude, at this point, things might be too hard. Durant is basically taking twice as many dribbles in games now than he did when he played with Westbrook, which is evidence that he's having to work much harder for everything than he's accustomed to working. That's a problem. And it's probably not fixable.
Bottom line, the Thunder no longer look like a title contender.
Or like a threat to the Heat.
Or like much, really.
They look, with all due respect, like a one-man show, like those old Cleveland rosters led by King James, like a team more likely to lose to Memphis in six than push Miami to seven. And that I'm typing these words after a game in which the Thunder outperformed the Grizz in a bunch of grit-and-grind categories and still lost speaks volumes. Because if Oklahoma City can't win in Memphis on a night when it outscores the Grizz in the paint (44 to 30) while Zach Randolph misses eight of the 12 shots he takes and finishes with just one offensive rebound, how is Oklahoma City ever going to win in Memphis? And if Oklahoma City can't win in Memphis then Oklahoma City can't win this series. And if Oklahoma City doesn't win this series then this will forever go down as the season that could've been in addition to the one when the world realized that, great as he is, Kevin Durant being asked to "carry a huge load," as Hollins put it, isn't a recipe for notable success in the NBA because, you know, it never really has been for anybody.