Knicks-Pacers Game 3: Pacers make Melo pay the price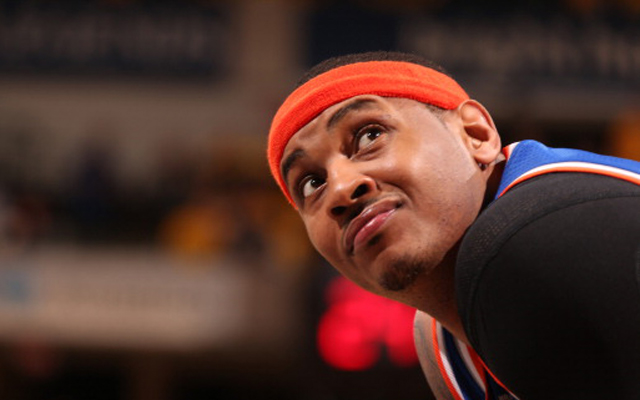 The question for much of the season with New York has been simple. Is the Knicks' offense sustainable?
They opened the year by spreading the ball, shooting an absurd number of threes and hitting a ridiculous percentage of them. When they slowed in the middle part of the year, they drifted more and more towards what we expected, a slow, grinding, isolation-heavy approach. When they caught fire in April, it was mostly that same approach; they were just knocking down an impressive number of them. Score in those situations, the defense will adjust, and other opportunities will present themselves.
But the playoffs are a different animal, and we've seen that since Game 3 of the first round with the Knicks. Teams are adjusting, planning and not overreacting to Carmelo Anthony or J.R. Smith in isolation. They're changing how they defend those possessions but without abandoning their basic principles.
In Game 3 vs. the Pacers, Anthony was not going heavy into isolation. He only had five isolation attempts, according to Synergy Sports. He did have nine post-up plays, however. And, whereas in Game 2 he was efficient and productive bullying smaller defenders and ripping past bigger ones, what we thought might happen has at least occurred in the short term. The Pacers changed their tactics in Game 3 vs. Anthony in the post, and he scored just six points on nine possessions.
They have shifted how they guard him and backed off with the aggressive help from Roy Hibbert. That means his outlet passes are getting intercepted. The smaller defenders are doing much of what he's doing to David West when guarding him, pulling the chair out from under him and giving him uncomfortable movement in the post. They're hammering him in isolation and swiping constantly at his dribble.
So have the Pacers "figured out" Carmelo Anthony? No. He makes shots or he doesn't, and the Pacers will live with it. But the issue has always been this: having the ball in Anthony's hands means the game slows, movement gets grinded out and the objective is not to stop Anthony. It's just to make him work. And the Pacers made him miserable in Game 3. His shot chart: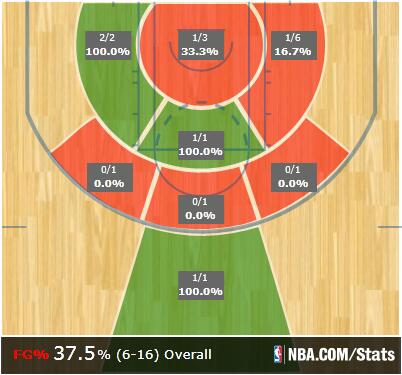 They made all the Knicks feel that way.
The key in the playoffs for an offense is not how talented it is or even how hard it works. It's dependent on whether it's solvable. Can it be schemed for, adjusted to? Does it make you make tough decisions or simply necessitate a committed, defensive discipline to attack it? The Knicks have found through three games, even after the blowout in Game 2, that the Pacers aren't worried about the Knicks' offense. It's too predictable, too dependent on elements that are unsustainable, too solvable.
Now the Knicks have to figure out how to respond. There have to be tweaks and adjustments. But that's difficult when so much of the offense is "Hey, give it to that guy and let him go to work." The Pacers want that from the Knicks. They want that from Anthony. Indiana wants Anthony to score 30 points on 28 shots. They'll take that every night because that means there are, give or take, 15 possessions that haven't been maximized. The Knicks can still win this series if they simply make the tough shots that the Pacers are forcing. That might be their best bet because creating ingenuity in two days is going to be difficult.
Indiana's fine to give Anthony the numbers, so long as Anthony pays the price for it. And the price through three games of this series has been a 2-1 deficit for the NBA's scoring leader headed into a must-win game at Indiana on Monday.