Playoff Machine: Tues., May 14

We tip off the 24th day of the 2013 NBA playoffs with our Playoff Machine coverage of the second round. Here you'll find updating images, analysis, reactions, video and more from the action on Tuesday. This post will update regularly with news, analysis and hilarity, so keep coming back, campers.
Pacers lead 2-1 | Game 4 preview
Warriors and Spurs tied 2-2 | Game 5 preview

(11:13 p.m. ET)
Heads up, Harrison Barnes. Here comes Kawhi.

(10:56 p.m. ET)
Halftime update -- Spurs 54, Warriors 51. Stephen Curry and Klay Thompson combine to go 4-16 from the floor and don't take any free throws. The Warriors have to be down double-digits, right?
Somehow, they've stayed tight to the Spurs, and have done it mostly by taking advantage of whoever is guarding Harrison Barnes. The rookie has 15 on 6-9 shooting, along with five rebounds, an assist and a block.
The Spurs have been mostly balanced, but the concern has to be a potential burst from Curry and Thompson. The Warriors stayed close despite the bad half from the stud backcourt, and the percentages say a flurry of 3s could be coming.

(10:15 p.m. ET)
J.R. Smith: "I take the blame for this whole series."

— Frank Isola (@FisolaNYDN) May 15, 2013

(10:00 p.m. ET)
Game recap -- The Pacers took a commanding 3-1 lead, 93-82, by dismantling the Knicks once again. Carmelo Anthony couldn't carry the load, J.R. Smith shot just 6-21 and the Pacers completely controlled the glass once again.
Really, there's not much more to this game other than that. The Pacers beat up the Knicks. That's it.

(8:08 p.m. ET)
Halftime update -- Pacers 48, Knicks 34. The Knicks can't seem to do anything right. They are essentially a one-man team without J.R. Smith making anything. The Knicks' offensive structure is to drive and kick, and to shoot a bunch of 3s. They aren't getting any looks.
Carmelo Anthony has 16, but after that, Raymond Felton is the only other Knick with more than two made buckets. There just aren't options there right now. Melo's top offensive helper is Smith, and he's just 1-8.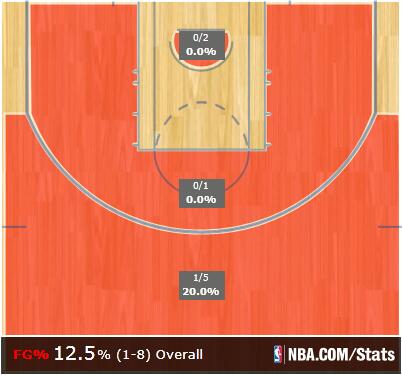 And the Pacers are continuing their very effective formula. They're knocking down shots, are crushing the glass 30-18, and aren't letting the Knicks score. It's ugly, but boy, is it a solid plan to just kill the Knicks slowly.

(7:39 p.m.)
The Knicks, they are struggling. And the struggle, it is real.
Take a look at the Knicks' body language after this Roy Hibbert putback.

(6:45 p.m.)
The Knicks have made a drastic change in Game 4, moving Kenyon Martin into the starting lineup and shifting Carmelo Anthony back to the 3.
Starters for Game 4 tonight at Indiana: Felton, Shumpert, Anthony, Martin, Chandler.

— NY_KnicksPR (@NY_KnicksPR) May 14, 2013

(6:00 p.m. ET)
Shumpert had an MRI on Tuesday to check out his surgerically repaired left knee and it revealed no structural damage. He's expected to play in Game 4.

(5:40 p.m. ET)
Iman Shumpert is questionable for Game 4 after a knee strain.

(5:40 p.m. ET)
Stephen Curry is "good to go" for Game 5. "I feel good," Curry said. "Ready to go tonight. It feels a whole lot better than it did before Game 4, so that's all I could ask for."

(5:30 p.m. ET)
Referee assignments: Monty McCutchen, Ron Garretson, Bill Spooner

(5:30 p.m. ET)
Referee assignments: Ken Mauer, Ed Malloy, Tom Washington