Thunder-Grizzlies Game 5: Memphis and faith in the grind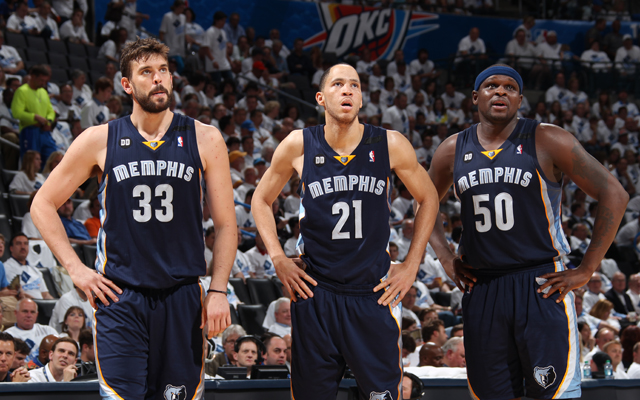 "Your chances of success in any undertaking can always be measured by your belief in yourself."

-Robert Collier
"This is us. Scrappy, grit'n'grind, hustling. We ain't fancy. We ain't running up and down the court throwing lobs and doing windmills."

"We in the mud."
You have to have that knowledge about yourself. You have to know who you are and know that it has value. Then you need the opportunity. That's the hard part, you need the chance to be put in a position of success, the maxim for any successful endeavor. Then you need luck. You need the ability, the opportunity, and for luck or fate or circumstance to grant you a way to fulfill what you're capable of.
The Grizzlies had the ability. They knew early on this season that they were a very good team, a borderline great team when they got off to the best start in franchise history. They beat good teams, they beat bad teams, they won on the road and in the Grindhouse. Then the trade, and everyone counted them out. That was the opportunity. They took off after Rudy Gay was traded and the team moved to a focus of their players down low with Mike Conley on the wing. It put them in a position to completely embrace the style they play best.
Then they got the luck. Russell Westbrook went down, and all of a sudden, the window opened.
Memphis had to get past their rival, the Clippers, who they have a genuine dislike for and who has plagued them for over a year. They exorcised the demons of their Game 1 collapse last season, put the Clippers behind them, and met an OKC team trying to learn in mid-air how to fly with only one of their engines.
And still, they could have failed. Without the ability, without the opportunity, they would never be here. But they are, now. Memphis advanced to the Western Conference Final for the first time in franchise history Wednesday, but that's not the most important part.
The important part is that they believe.
You see this with any team that makes an improbable run, they have the same characteristics. Yes, players step up, in this case Mike Conley and Marc Gasol playing the best ball of their careers. And yes, they have something they can always fall back on, in this case a defense that suffocates, erradicates, eliminates scoring opportunities. But there's also a determination fueled by confidence and, honestly, resentment. There's a bitterness at how they've been ignored. We saw it with the Mavericks in 2011, the Celtics in 2010, the Magic in 2009.
That belief makes players more focused, and it gives them energy. "Why not us?" is a heck of a motivator, and Memphis has it. But to carry it out, you have to have leadership. Luckily, that's an area Memphis isn't lacking in.
The Grizzlies are overflowing with leadership right now. Marc Gasol barking out orders defensively. Zach Randolph calling for the ball and getting in guys' ear. Tony Allen leading by example through effort. And Mike Conley always in control, never too high or too low, making sure everything runs as it should. It's that leadership that helps them through situations when the shots don't fall, when the breaks don't come. And it's that leadership that helps them play games at their tone, their tempo.
Both the Clippers and Oklahoma City are fast, athletic teams that found themselves in mud, in slow-paced, gritty defensive grind-outs. Memphis took them out of their comfort zones and threw them into situations that worked against the things they did well. When the game gets ugly, Memphis will outwork you. When possessions get tight, they bear down (no pun intended) and crush the life from the opponent's execution. That's how they win. That's how they won.
The Grizzlies advanced to the Western Conference Finals because everything fell into place, because they had the breaks go their way, because they had the ability to execute the gameplan they wanted.
But more than anything, really, and the thing that should leave the rest of the remaining contenders concerned is this:
They believe.