Phil Jackson compares Kobe Bryant and Michael Jordan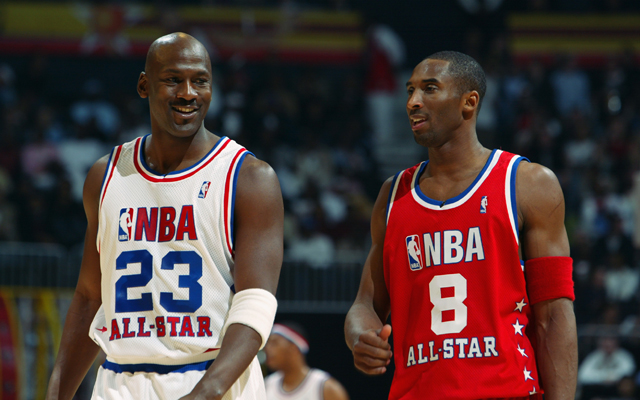 Phil Jackson is one of the greatest coaches in professional sports history, no doubt.
But he also had the good fortune of coaching two of the greatest players in professional sports history, which helps.
And for the first time, Jackson describes how Kobe Bryant and Michael Jordan measure up to each other, from mindset, to character, to ability, to leadership.
His new book Eleven Rings: The Soul of Success, which the L.A. Times got an advance copy of, has the goods.
On personality:
"Michael was more charismatic and gregarious than Kobe. He loved hanging out with his teammates and security guards, playing cards, smoking cigars, and joking around," Jackson said in the book, which was obtained in advance by The Times.

"Kobe is different. He was reserved as a teenager, in part because he was younger than the other players and hadn't developed strong social skills in college. When Kobe first joined the Lakers, he avoided fraternizing with his teammates. But his inclination to keep to himself shifted as he grew older. Increasingly, Kobe put more energy into getting to know the other players, especially when the team was on the road."
On their approach:
"Michael was more likely to break through his attackers with power and strength, while Kobe often tries to finesse his way through mass pileups," Jackson wrote. "Michael was stronger, with bigger shoulders and a sturdier frame. He also had large hands that allowed him to control the ball better and make subtle fakes.

"Jordan was also more naturally inclined to let the game come to him and not overplay his hand, whereas Kobe tends to force the action, especially when the game isn't going his way. When his shot is off, Kobe will pound away relentlessly until his luck turns. Michael, on the other hand, would shift his attention to defense or passing or setting screens to help the team win the game."
On leadership:
"One of the biggest differences between the two stars from my perspective was Michael's superior skills as a leader," Jackson wrote. "Though at times he could be hard on his teammates, Michael was masterful at controlling the emotional climate of the team with the power of his presence. Kobe had a long way to go before he could make that claim. He talked a good game, but he'd yet to experience the cold truth of leadership in his bones, as Michael had."

Bryant gradually evolved during the 2008-09 championship season, when the Lakers successfully retooled with a more finessed look with Pau Gasol instead of the brute force of the Shaquille O'Neal teams.

If Bryant talked to teammates in his earlier Lakers years, it was usually, "Give me the damn ball," Jackson wrote. "But then Kobe started to shift. He embraced the team and his teammates, calling them up when we were on the road and inviting them out to dinner. It was as if the other players were now his partners, not his personal spear-carriers."
On defensive abilities:
"No question, Michael was a tougher, more intimidating defender. He could break through virtually any screen and shut down almost any player with his intense, laser-focused style of defense.

"Kobe has learned a lot from studying Michael's tricks, and we often used him as our secret weapon on defense when we needed to turn the direction of a game. In general, Kobe tends to rely more heavily on his flexibility and craftiness, but he takes a lot of gambles on defense and sometimes pays the price."
So if we're scoring -- outside of six rings versus five -- that's three for Jordan, zero for Kobe. Jackson says Jordan was a better leader, a better defender and a stronger athlete. He also seems to indicate Jordan was a better player to play with, who let the game come to him rather than "forcing" it.
Another interesting nugget from the book: Kobe's sexual assault trial changed Jackson's perception of him, because Jackson's daughter had been a victim of it while on a date with an athlete in college:
"Brooke expected me to get angry and make her feel protected. Instead I suppressed my rage — as I'd been conditioned to do during childhood by my parents … it left her feeling alone and unsupported. (In the end, after filing a report with the police, Brooke chose not to press charges.)

"The Kobe incident triggered all my unprocessed anger and tainted my perception of him. ... It distorted my view of Kobe throughout the 2003-04 season. No matter what I did to extinguish it, the anger kept smoldering in the background."
Charges were dropped against Kobe in 2004.