Drew 'doesn't like odds' as Atlanta coach as Hawks meet candidates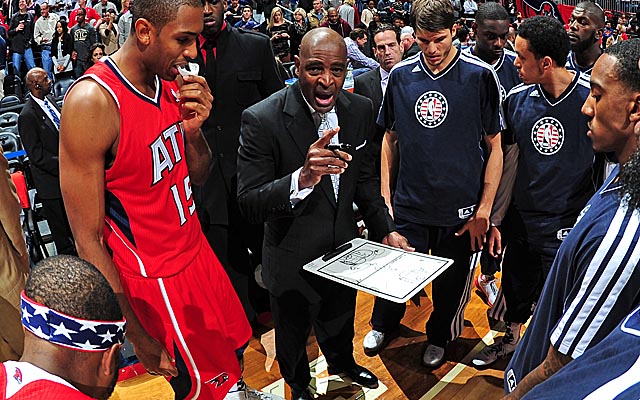 The Hawks have been doing something kind of weird. They're interviewing coaches to replace Larry Drew while still having not yet cut ties with Larry Drew.
"After talking with my adviser on this, he doesn't like the odds," Drew said, via the Atlanta Journal-Constitution. "I don't like the odds, either. That's why I've decided to move on with other organizations."
Drew will reportedly interview with the Bucks soon about their vacancy.
While it seems strange to be interviewing coaches while still having a coach, Drew is actually appreciative of how Danny Ferry and the Hawks front office is handling the situation. Drew noted that by going about it this way, it allows him to take care of himself and look for other opportunities instead of just being cast out.
And there's still the chance he comes back, too. He's likely set to interview with Ferry soon about that.
But he's not holding his breath. And while his tenure so far with the Hawks hasn't been a rousing success, it also hasn't been a failure, either. Drew was an assistant under previous coach Mike Woodson and got his first head coaching job in 2010 after his boss was fired. In Drew's first season, the Hawks upset Dwight Howard and the Orlando Magic in the opening round and took Chicago to six games in the second.
The team made it to yet another postseason this year, and fell short of the second round, the second consecutive year of doing so.
Ferry is new on the job in Atlanta and has begun a process of rebuilding the team. He moved Marvin Williams and he moved Joe Johnson. And there's the question about what to do with Josh Smith, an unrestricted free agent. With Drew potentially on the block, the Hawks could be heading for a big rebuild.
"Realistically, I wasn't Danny's hire from Day 1," Drew said. "I was Rick Sund's hire. Danny just kind of inherited me. I totally respect the position he took. He wants to do his due diligence and make sure I'm the right guy for the job. Really, this whole year, I was basically interviewing for the job. At end of day, if it happens to evolve back to me, I will be his hire."