Bradley Beal says he would lose respect for Rose as a teammate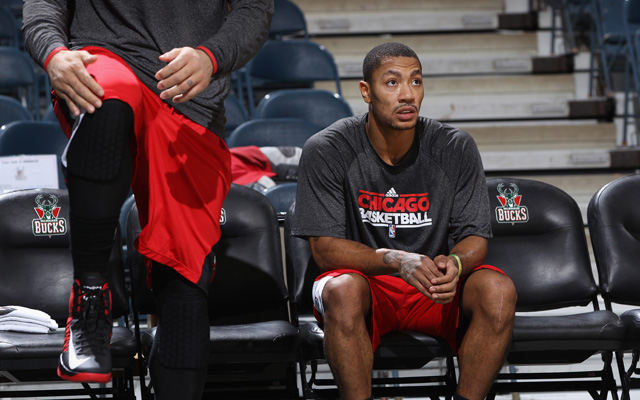 The Derrick Rose saga this season was just downright odd. It didn't make much sense from the outside. He was cleared to play by doctors, he was day-to-day for three months, essentially, and while his Bulls teammates were throwing up in trash cans and playing through plantar fasciitis, he was in a suit in the playoffs. But Rose simply wasn't ready, according to him and his camp, so he didn't play.
It's one thing for people in media circles or fans to criticize Rose, but now there's someone on record saying he would lose a little respect for Rose as a teammate. Surprisingly, it's mild-mannered Wizards rookie Bradley Beal. From the Washington Post:
"A little bit. Yeah, I would," he said. "The type of player he is, and the mentality and competitiveness that he has, I think he would have gave it a go. I don't know what was holding him back. I think he's scared it's probably going to happen again and he won't be the same. But you're never the same after an injury. But you just have to fight through it and do something else to be able to impact the game. I'm not sure what it is he has to do. I really can't speak for him."
via Bradley Beal on Derrick Rose: 'I think he's scared'.
It's not an unfair answer to a question he was specifically asked. Beal's not saying Rose made the wrong decision, or that he knows what he should or should not have done. He's simply saying it would be difficult to see what every guy goes through physically and have the team's best player sitting out for no discernible medical reason.
Rose practiced five-on-five, full-contact for nearly two months, but never did return to the court. Beal missed 26 games with injuries this season, but did keep coming back, though the injuries were minor, and Rose's was traumatic.
That's the real key. Rose, as evidenced by interviews with him early in the year, was traumatized by the injury physically, mentally, and emotionally. It was an excessively painful injury and recovery process, and eventually that impacted his ability to come back.
Still, it's odd to see a rookie, on another team, make those comments, but that may simply be related to the fact that Beal doesn't know any better at this age.